In the world of PR, September is Measurement Month. My use of the word "world" in the previous sentence was intentional. Measurement Month activities are designed to spotlight measurement on the world stage.
This month marks the third annual global program to showcase the importance of PR measurement. Each region of the world has one week designated for events; the America week begins Sept. 19 and runs through Sept. 23. The international Association for the Measurement and Evaluation of Communication(AMEC) again is the sponsor.
With that in mind, it seems fitting as we approach next week to take a look at one of measurement's hottest topics: image recognition in social media.
But first, let's be clear: The importance of images in media is far from new. For more than 100 years, the inclusion of photos alongside text in newspaper and magazine articles has enhanced brand awareness and the value of brands' PR efforts. This value has been reflected in analytics; measurement professionals have always given higher scores to print coverage (and later, online articles) with images.
Mainstream photojournalism dates back to the late 1880s, coincidentally the same time BurrellesLuce started media monitoring, including for images of spokespeople, logos and subsequent branding.
"When consumers have text and an image, they automatically create an association that provides greater overall retention. This translates to a higher return on communication influence," says Johna Burke, EVP at BurrellesLuce and North America co-chair of AMEC. "It's not a surprise to see the visual demand rise in social media. The better you understand all implications of your coverage, including image association, the more accurately you will be able to understand and predict shifts and changes in brand awareness."
3.25 billion photos daily
In Mary Meeker's Internet Trends report (2014), it was estimated that 1.8 billion photos were shared on select social channels daily. The channels were Facebook, WhatsApp, Instagram and Snapchat. In her latest report, for 2016, Meeker of Kleiner Perkins Caufield & Byers estimates the figure for 2015, now including Facebook Messenger, to be 3.25 billion photos daily. There are a bit more than 7 billion people on Earth. Think about how often every person on Earth, even those without internet access, would have to upload and share a photo each week to reach that figure. So the longtime practice of image analytics in traditional media has become a hot new topic in social media, and listening tools are starting to add image recognition to their capabilities.
Brand Logos without Brand Names
Up to 80% of posts with logos do not mention the name of the brand in the text, according to Talkwalker, an analytics tool. For example, a consumer complains about his car on Facebook, Instagram and Twitter; he doesn't include the make or model in the text, but he provides a photo of his vehicle showing a large brand logo. A post like this would be missed by systems solely analyzing text.
So if you are basing your understanding of brand awareness only on the volume and outcomes of text posts, you could be missing "hidden" mentions of your brand—meaningful conversations that use visual language—and therefore, deeper brand insights. You could be missing up to 80% of the true picture (pun unintended).
Think about the potential influence on your campaign or crisis management program should you fail to catch every mention of your brand. Conversely, think about the potential insights into your brand strategy that you will gain when you capture every mention of your company.
Talkwalker was one of the first social listening tools with image recognition. Its technology recognizes 30,000 brand logos in images posted on social channels.
"They say a picture's worth 1,000 words. On social you can probably multiply that by 100," says Todd Grossman, Talkwalker's CEO for the Americas. "For brands, knowing when, why and who is using your logo is critical to understanding the true reach and power of your brand."
The Value of Photos on Social
A senior executive at another popular listening platform Brandwatch reinforces that opinion. "Considering the continued success of Instagram, Snapchat, YouTube and Periscope, a social media picture or video is worth much more [than 1,000 words] to brands—it's filled with valuable consumer insights, preferences and unsolicited public opinion," says Thomas Schmidt, a Brandwatch VP. "We believe visuals are the next essential piece of the social data landscape."
Another player in the image recognition arena, Zignal Labs is partnering with Ditto Labs to leverage advances in computer vision technology. Zignal offers several use cases, including face detection, and logo and product recognition.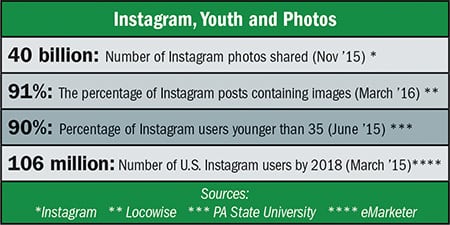 "Face detection capabilities are utilized to know when celebrities, politicians and other influential individuals are interacting with a brand's products," says Adam Beaugh, Zignal Labs' president and co-founder. "Face detection can also be used for interpreting emotion, sentiment and even better, understanding of audience demographics. Similarly, logo and product recognition capabilities are leveraged for visual reputation management and crisis communications."
This becomes more important daily as visual content grows in popularity and generates higher engagement with users. The consumer shift to image-based social platforms is a global phenomenon. Instagram said not quite one year ago that more than 80 million photos are uploaded daily on it by the platform's 400+ million users. How many of those have a brand logo but no text to accompany them?
Think about the massive numbers of users on some of the most visually oriented social platforms: Facebook (almost 2 billion users), Instagram (400 million, as we said earlier), Twitter (320 million) and Pinterest (100 million). Consider how many visual stories they are sharing, and think about what you might be missing with text-based-only analytics.
By harnessing the power of image analytics, PR and marketing organizations can uncover hidden posts, have a better picture of how brands are perceived online and use that social intelligence to drive future strategy.
CONTACT: margot.savell@researchdatainsights.com
This content appeared originally in PR News Pro, September 12, 2016. For subscription information, please visit: https://www.prnewsonline.com/about/info