The lines continue to blur between news delivered through traditional channels and through social networking. While many people are now getting news from social media, much of that news is shared from traditional media sources.
It's true that some details of breaking news stories are being reported by average citizens through both mainstream social networks, such as Facebook and Twitter, as well as specialty platforms like CNN's iReport. Still, more people are sharing mainstream media reports than reporting news on their own in real time.
There are notable examples of citizen journalism, from one of the earliest and most infamous photos by a passenger of downed U.S. Airways 1529 in the Hudson River, to a tweet about the helicopters that participated on the raid in which Osama Bin Laden was killed.
Social media is most often used as an impromptu news channel in crisis situations. A case in point: Last year's bombing at the Boston Marathon, where the Boston Police commander demanded: "I need somebody up there to get on social media…."
Even though citizen journalism can impact news coverage, most people aren't doing it yet. According to the Pew Research Journalism Program, only 14% posted their own photos of a news event, and only 12% posted a video.
On the other hand, 50% reported they had reposted news stories, images or videos; and 46% had discussed a news issue or event.
Reddit is a good example of a social network and aggregator whose users specialize in the curation of links from news organizations and blogs.
NEW TOOLS
In an interview for the Twitter blog last year, Andrew Miller, Guardian News & Media CEO, said Twitter drives traffic for breaking news stories to the U.K.-based newspaper company. Miller said that 10% of the newspaper's traffic now comes from social media.
When the Guardian broke the news about whistleblower Edward Snowden on Twitter, the story set a one-day traffic record of almost seven million unique visitors.
Reporters look to Twitter and other social networks to discover news. They are using tools like Storyful to search for specific topics and cut though the noise.
Storyful searches for breaking news and interesting stories for further development by reporters. Earlier this month Facebook launched FBNewswire, where breaking news stories are shared.
And, according to a study by NORC in February, people are looking to media outlets, both online and offline for news, with six in 10 saying they prefer news to come directly from a news organization.
And three-fourths of all Americans said they still see or hear news daily, including 6 of 10 adults under age 30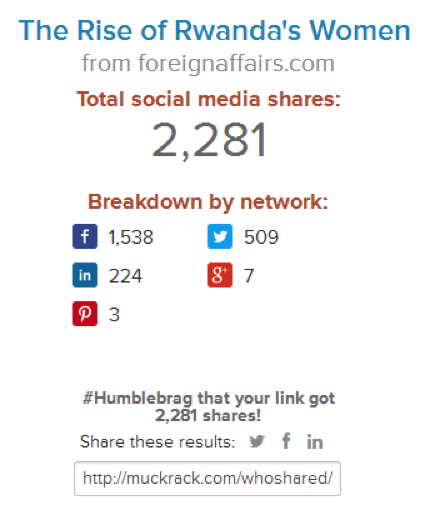 THE DIGITAL ECHO
For the public relations profession, this suggests that earned-media placements and bylined articles in prestigious publications might mean more than they ever have before.
Articles that may seem lackluster on the webpage of a news organization, with very few comments, may take on an entirely different life on social media.
One way to show more value to the client or boss is to measure the spread of the article beyond its initial placement and the potential impressions based on the publication's readership.
Many news articles are shared widely, either organically or by the PR team, on social media. This should be captured to show the true value of the placement and the hard work of the team.
You can get a very quick read on the digital echo of a story by using some free tools in the marketplace, such as Muck Rack's Who Shared tool (muckrack.com/whoshared) or the Velocity tool (www.tomjepson.co.uk/social-velocity).
As an example, a bylined article, written by Swanee Hunt for the prestigious magazine Foreign Affairs, about how Rwandan women rebuilt their country after the genocide, appeared not to have much traction. The online version only generated two comments.
However, a quick look at the stats show the article had a healthy number of shares in social media, with it being shared across five social networks a total of 2,281 times (see graphic nearby).
By pasting the URL of the article in the search bar, these tools give a simple read of how many times the article was shared on social media, and across which networks.
This digital echo brings to light an area in which PR professionals who work on traditional media placements can show more value.
Paid tools, such as Tellagence, can help you pinpoint who shared the link, determine which communities were most engaged, and determine which individuals may have been the most influential. By understanding the context around the sharing of the article, the organization can determine which messages and information is resonating most.
As the public relations industry starts to use some of these more meaningful measures, the tools will evolve to support the trend, as well.
CONTACT:
Kami Huyse is the founder and CEO of Zoetica Media, a digital content agency. Follow her on Twitter, @kamichat, or Google+. She can be reached at kami@zoeticamedia.com.
---
This article originally appeared in the May 12, 2014 issue of PR News. Read more subscriber-only content by becoming a PR News subscriber today.