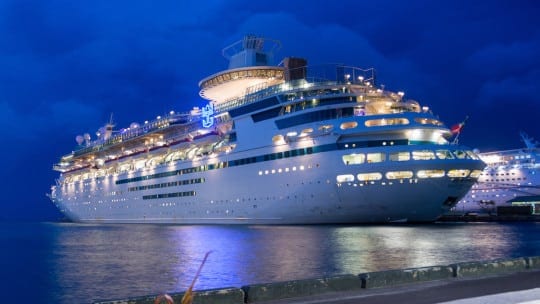 Cynthia Martinez has handled some of the worst crises you could imagine.
As director of global corporate communications for Royal Caribbean Cruises, Ltd., Martinez has dealt with everything from fires on cruise ships to a guest committing suicide by jumping overboard.
Before smartphones, crisis communications in the cruise ship industry were unique. Since the ships are out to sea for days on end, the media often wouldn't find out about a crisis until the brand sent out an official release, usually after the crisis was handled.
But now, anyone can tweet or post a video on Facebook at a moment's notice. So, to control the narrative, Martinez and her team have to quickly and comprehensively craft messages while staying on top of what guests are saying, in real time.
"I've had guests on the cruise ship doing live Skype interviews with the news," Martinez says, a scary thought for crisis communicators.
Martinez, who will be speaking at PR News' Digital and Marketing Show, Oct. 17-19, in Miami, shares a few tips on reporting a crisis that is simultaneously being reported by hundreds of citizen journalists.
Be First to Share the Facts
The first goal for a communications team is to establish an official brand channel, such as @RCLcorp, to serve as the main and first source of information for the media.
One major crisis that Martinez handled was a fire on the Grandeur cruise ship in 2013. No one was injured, but it looked like they would have to abandon ship—something no guest wants to hear.
In response, Martinez took their normal crisis statement and broke it up into three tweets, to establish the Twitter feed as the definitive source for journalists. The communications team also took their own photos of the fire damage and tweeted it out, so that journalists would use those photos instead of a guest's.
"I don't think we let 30 minutes go by without saying something," says Martinez. "Even if it's reiterating facts we've already said."
Royal Caribbean's CEO also flew out to meet the ship, and the communications team sent a PR professional with him to take photos and share those images on social media.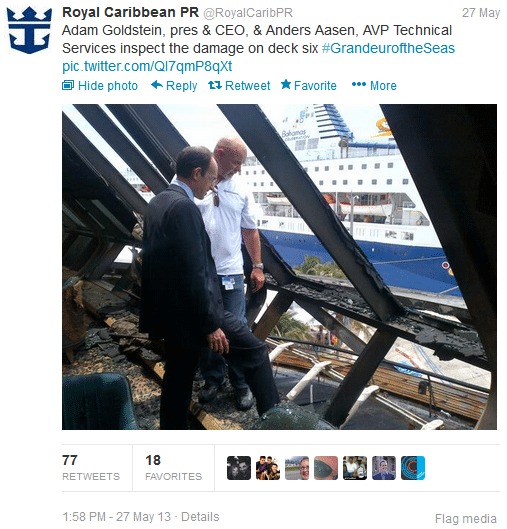 Thanks to the efforts of Royal Caribbean's communications team, 93% of the media coverage of the fire was either neutral or positive, and stock prices remained unaffected.
Use Social Listening to Correct Misinformation
Royal Caribbean has the fastest internet at sea, Martinez says, and even though that can be a curse for the PR team, they would never turn off the internet to stop guests from sharing their own messages.
Her team sometimes needs to correct information that guests have shared. For instance, a cruise ship encountered terrible weather conditions and was going to have to turn back. Guests were communicating directly with the media, and one guest was quoted as saying there were 20-foot waves.
"He's not a meteorologist or a sailor," Martinez says, and the communications team had to reach out to the media to correct those claims. "There's a very high possibility that someone will want their 15 minutes of fame."
Martinez has seen an uptick in guests using Facebook Live during crises—people will live stream a captain's announcements made over the loud speaker, for instance. So, Martinez has trained captains to speak about the weather like a meteorologist. If guests are going to be streaming what the crew is saying, you want to make sure it's accurate.
Martinez and her team would never ask a guest to stop streaming or take down a post, which would illicit a terrible response, she says. But, the team can still contribute by commenting on the post to fix or explain incorrect information.
Simulate Crises to Be Prepared
Just as crew members have to be prepared for fires or bad weather, the crisis communications team practices how to put out their own fires.
A ship's crew will prepare for crises several times a year and the communications team uses the same structure. Sometimes, these drills are formatted as roundtable discussions of how to handle an issue, and sometimes they practice writing tweets and press releases for specific situations. The more you practice, Martinez says, the less likely you are to be surprised when a crisis arises.
"We take crisis very seriously at Royal Caribbean because there are lives at stake. We don't even think about how much the ships cost and how much the damage could cost the company," Martinez says. "That's secondary, because it's the lives on the ship that are most important to us."
Connect with Cynthia: @CrisisCommChick 
Connect with Samantha: @samantha_c_wood