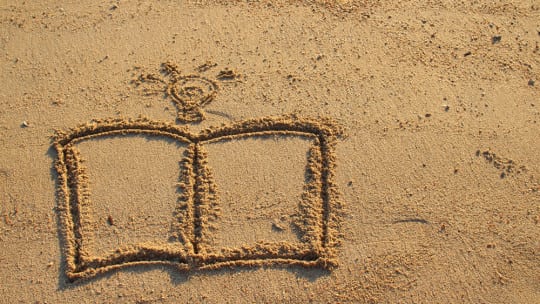 Summer's warm breezes compel us to be outside, preferably on a hammock with a good, or bad, book—be it  pulpy noir, reality-shattering fantasy or steamy romance.
On the surface, these warm months might not seem like the best time of year for PR pros to jump into an eye-opening, instructive tome. Business books are typically spared from a summer release. Who wants to read about business success while trying to sip a Mai Thai poolside?
So while these summer reading recommendations for PR pros might not show you how to get your brand message through the media clutter, they will inspire you with their storytelling qualities, humor and, in some cases, exceptional research.
"I'll Be Gone in the Dark: One Woman's Obsessive Search for the Golden State Killer"—Michelle McNamara
If you like your beach read with a dash of intrigue, look no further than the posthumously published life's work of true crime writer Michelle McNamara. McNamara, the late wife of comedian Patton Oswalt, wrote the majority of this book before dying in her sleep in 2016, and vowed to catch the infamous, elusive Golden State Killer. It's a testament to the thoroughness of McNamara's research and reporting that, two years after her death, a suspect for these decades-old crimes was finally apprehended.
"The President Is Missing"—Bill Clinton and James Patterson
Not only did President Bill Clinton co-author a pulpy thriller with James Patterson, he also set the novel around a story arc that he knows all too well. While Patterson brings the knowledge of story structure to the project, Clinton folds in his knowledge of Washington secrets for a page-turner with a plot lifted from today's headlines. Does "whispers of cyber-terror and espionage and a traitor in the Cabinet" sound familiar?
"Chasing Hillary"-Amy Chozick
If political fiction isn't your thing then consider picking up this nonfiction work, which chronicles Hillary Clinton's two failed presidential bids. The story reads as a deep dive into a moment of time that's come and gone, and a sincere attempt to try and figure our what went wrong.
"Calypso"-David Sedaris
Although David Sedaris has long been known as a prolific humorist and essay writer, "Calypso" marks his first published essay collection in five years. The book is no cobbled-together small feat, either, focusing on Sedaris' ability to infuse his humorous anecdotes while riffing on larger themes and takeaways about society. At one point, for example, mindfulness about a tumor leads to a mediation on death and aging. It's a valuable lesson for storytellers new and old alike—there is often a much bigger, universal story waiting just beyond the scope of what you think your story is really about.
"Enlightenment Now: The Case for Reason, Science, Humanism, and Progress"—Steven Pinker
"Enlightenment Now" finds Pinker, a cognitive psychologist, taking a contrarian approach to the idea that "the world is going up in flames." Instead, he argues that human progress is actually on the rise, repurposing the word "enlightenment" for the 21st century and reframing the idea that so much of the change happening to our country these days automatically spells disaster.
"An Audience of One: Reclaiming Creativity for Its Own Sake"—Srinivas Rao
As the host and founder of The Unmistakable Creative podcast, Srinivas Rao has instigated discussions about creativity with over 600 different thought leaders who have given him a uniquely worldly perspective on branding, storytelling and marketing. In "An Audience of One," Rao stresses the importance of creating something purely for yourself, free of any expectations of money or fame that corrupt or collude with the creative process. Rao's book about the importance of being present with the creative process is essential reading for anyone who has gotten burned out while making things that they love—and offers sage advice on how to keep that from happening in the future.