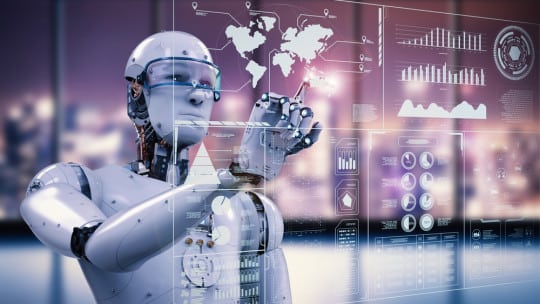 If the fragmented media environment is a sick patient, machine learning may be the cure.
That was the proposition Andrew Heyward, visiting scholar from MIT's Media Laboratory and former president of CBS News, outlined in his presentation, "Can Robots Solve Your PR Problems?" at the New York offices of agency Makovsky on Feb. 6.
Heyward and his colleagues at MIT Media Lab's Laboratory for Social Machines are studying artificial intelligence solutions to modern plights of the PR practitioner: fake news, polarization, the public's lack of faith in journalism and short attention spans, to name a few.
Heyward's group uses machine learning algorithms as their primary tool to map and track the overall health of the public sphere. And soon, PR pros may be able to use those AI insights to make better decisions—whether they're managing a crisis or planning a national campaign.
Here are four PR applications of AI and machine learning shared by Heyward.
Faster and more accurate social listening. "Algorithms can understand vast amounts of data that no human would have the time to ingest or analyze," said Heyward. Using deep learning technology, machines can improve upon earlier insights as they're fed more data. Heyward's team instructed their algorithm to learn from incoming tweets and news sources, improving accuracy in mapping trends.
Determining share of conversation. Twitter conversations fed into the Laboratory for Social Machines' deep learning network produced lists of topic-filtered tweets. This determined share of conversation on different topics, from health care to foreign policy. And while machines can't yet extract a user's true intent from 280 characters, Heyward said that looking at which accounts people followed (e.g. Hillary Clinton, Donald Trump) helped the algorithm distinguish sarcasm from true support for an issue.
Finding a common thread across polarized groups. Many businesses today are built on polarization, playing to interest groups with particular political leanings. Heyward's Laboratory mines insights from the language overlap between polarized bubbles. (A new nonprofit spinning out of the Laboratory is focused on using technology to connect people across political barriers—a mission all PR practitioners should devote themselves to, if you ask Heyward.)
Crisis management. Heyward's colleagues used a machine learning algorithm to track rumors. The tool showed the volume of tweets propagating a rumor, and predicted the likelihood of a rumor's truthfulness from the instant it started to the moment it was verified by a trusted source like a police chief or major news agency.
Of all of Heyward's findings, the crisis management application spurred the most excitement among attendees present at his talk. It has the potential for predicting the length and depth of a crisis, providing insight around which rumors are spreading (and therefore most worrisome for a brand) and which are likely to be disproved.
Learn more about AI and machine learning and their applications communications at the Social Media Summit Feb. 22-23 in Huntington Beach, which includes a session on "AI's Impact on Business, Culture and Brand Communications."