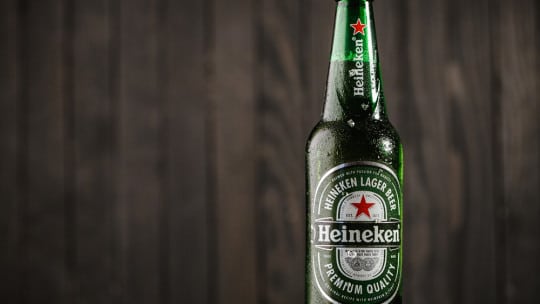 Heineken is facing a backlash on social media for a Heineken Light advertisement that many users are calling racist.
The offending ad portrayed a bottle of Heineken Light sliding across a bar past black patrons and into a white customer's hands, along with the tagline, "Sometimes, lighter is better." The ad has been pulled from rotation by Heineken, which also issued an apology statement.
On Twitter, Chance The Rapper called the ad "terribly racist," and accused other brands of knowingly using racist advertising to win media impressions.
I think some companies are purposely putting out noticably racist ads so they can get more views. And that shit racist/bogus so I guess I shouldn't help by posting about it. But ???? I gotta just say tho. The "sometimes lighter is better" Hienekin commercial is terribly racist omg

— Chance The Rapper (@chancetherapper) March 26, 2018
While companies like Dove and H&M have been in the news cycle recently after running ads criticized for racist undertones, it's unlikely that most brands seek out that kind of attention.
So how can other brands avoid finding themselves in Heineken's situation? And, if they face similar allegations, what steps should they take to lessen the impact on brand reputation?
"There is a polar lens that should be applied to any creative project; it looks at the creative [elements of a campaign] from the perspective of the people who are most likely to be offended," says Ron O' Brien, senior director of public relations at Thermo Fisher Scientific. "Had the polar lens been applied to the ad in question, it would have been evident that there was a segment of the audience who would be offended."
The best course of action is to apologize for the mistake, O'Brien says, and implement a process of engaging with audience representatives to ensure that such a design concept is not approved again.
Andrew Ricci, principal at Riccon Strategic Communications, agrees, saying that diverse focus groups could flag issues that brands might miss.
"Brands have got to [recognize] that they have significant blind spots and things that they won't think are a big deal, but that will be interpreted differently by others," says Ricci. Heineken made the right decision to issue a forceful apology and pull the ad quickly after criticism came to light, he says, but they can't stop there.
"They really have to make good on their claim that they will use the situation to influence their future campaigns," he adds. "Ad campaigns today have to celebrate diversity."