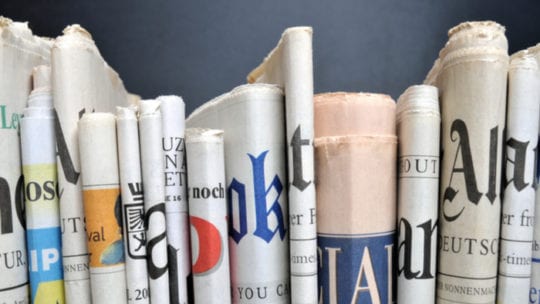 As usual, the news provided an inexpensive postgraduate course in PR, offering lessons not usually taught in communication schools. The examples below are geared to young PR pros, though they contain takeaways for communicators at all levels.
Headline: "Reporters Quit Politico to Start a Publication Focused on Congress" 
The final graph of a Jan. 4 NY Times story, by Ben Smith, the paper's media columnist, offers a lesson that people in our business must never forget.
Lesson: Smith wrote, "Mr. Bourkoff is a Democrat and longtime fund-raiser for Vice President-elect Kamala Harris. But he is also close to Mr. Trump's son-in-law, Jared Kushner, a fact that–in perhaps the clearest sign of the changed world the Washington publications will navigate–Mr. Bourkoff's spokeswoman asked me not to mention."
The lesson is clear: A reporter's job is to report, not to help communicators.
Headline: "Big Rival Drugmakers Unite to Make Shots"
The article described rival pharma companies collaborating on a COVID-19 vaccine during the global pandemic.
Lesson: Be realistic. Despite the 'team' concept and 'We're all in this together' propaganda, PR, especially agency life, is similar to having a lion as a pet. You never know when it will decide that you're no longer necessary for its existence.
Nevertheless, the headline provides a valuable lesson for PR pros. For the good of the agency, put aside individual competitiveness when a major client is in jeopardy. The reason is obvious to those who have toiled in PR after losing a major client: The result can lead to multiple layoffs.
Headline: "When to Think Twice About Negotiating Pay"
The March 1 WSJ article details the pros and cons of salary discussions with prospective or current employers.
Lesson: Obtaining a job is your first priority. As a result, don't negotiate the salary if you really want the job. Instead, say something like, 'I was hoping to get a better salary, but I really want to work here and I'm confident that it won't take too long for management to see my worth.'
After you've established yourself for a couple of years as a valuable asset, make your displeasure with your salary known.
Caveat: Always research the firm before making that statement, in case the interviewer asks why you want to work there. In fact, always research any firm before an interview, even if you're recruited.
Headline: "Job Searching? Here Is Advice for Standing Out"
The March 8 WSJ article offered standard advice about how a person should act once "your resume clears robots and recruiters."
Lesson: Use some out-of-the-box techniques. For example, tailor your resume for each company. But don't send it before you:
* Research the company's history and current situation.
* Write a letter to the CEO, president and other high executives explaining why you admire the company and want to work there. Give examples from your research.
* Include in the letters why you believe you can help. If possible, obtain short letters from your communication school teachers and supervisors extolling your character and good work. If you have work experience explain why you're seeking new employment and provide names and titles of people at your previous company who are willing to vouch for your ability. Don't give the names of H.R. personnel, only supervisors and other employees you trust.
* Be certain to provide day, night, weekend and holiday contact information.
* In the letter, ask if the person you are sending it to would have someone interview you. Personalize each letter, no cc's, but always contain the names of others to whom you have sent letters.
At the least, an executive secretary or assistant will read your letter. In addition, it's possible the CEO, president and other executives will.
This isn't the usual method of obtaining a job interview. It provides a human touch. That's why it might work.
Headline: On July 16, the WSJ ran an article detailing Boeing's troubles titled, "Boeing CEO Battles New Stresses"
The article contained the following line: "The company declined to make Mr. Calhoun available for an interview." Mr. Calhoun is Boeing's CEO. Instead, through a spokesman, Boeing issued a boiler plate reply containing no new facts.
Lesson: Too often PR pros are accused of protecting executives during a crisis. They issue statements instead of granting interviews, critics say. If the situation involves legalities, then the refusal should contain an attorney's statement. When there are no legal issues, refusing an interview request, particularly from the most prominent financial publication, gives the impression that the company is hiding something.
Arthur Solomon was SVP/senior counselor at Burson-Marsteller and a journalist. He is on the Seoul Peace Prize nominating committee. Reach him: [email protected] or [email protected]