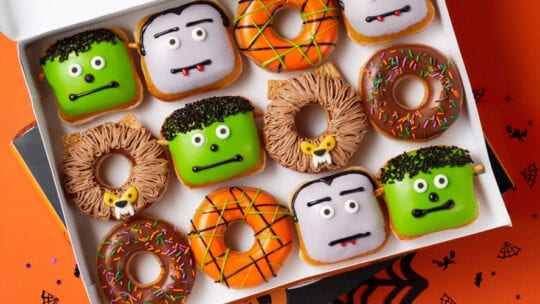 Thanks to COVID-19, Halloween may look anything but traditional this year. With socially-distanced corn mazes and spooky carwashes trying to fill the gap, and costume parades and haunted houses cancelled and closed, respectively, one shining item remains an uncertainty—the annual trick-or-treat. With coronavirus cases on the rise in numerous states, many communities are forgoing the tradition altogether, finding crowds and interactions just too risky.
Brands have come to the rescue with many a creative idea. Especially with so much on the line.  Americans spent $8.78 billion on Halloween in 2019, according to the National Retail Federation. The Balance reported that spending is expected to decrease 8.3 percent this year, to $8.05 billion. That's still a large chunk of change, so why not develop a campaign to give back to customers and keep fond memories of a brand in their minds and hearts—especially right before the holiday season.
PRNEWS looks at several brands and what they are doing to save Halloween in 2020.
Walmart
America's favorite big-box store is utilizing its equally giant parking lots to celebrate Halloween. More than 100 Walmart lots will be transformed into a "spooky street" for trick-or-treating, starting today (Oct. 29) through Halloween. Walmart is encouraging guests to dress in costume for the contact-free, socially-distanced event.
"We successfully reimagined what's possible with our...physical footprint to bring communities joy in a year that's been otherwise tough," said William White, Walmart's CMO, in a statement.
Kool-Aid
Kool-Aid Man will flip the script on Halloween, visiting homes for a reverse trick-or-treat campaign. The boisterous mascot will deliver Scary Berry Jammers drink pouches, Ghoul-Aid Scary Berry popping candy and Kool-Aid Man costumes to those who win a contest through the brand's Twitter account, according to Marketing Dive.
Oh yeah, that is one unforgettable delivery.
Chipotle
You can have a burrito, but why not make it a boo-rito?
Chipotle's annual Halloween buy-one-get-one (BOGO) event is going virtual, allowing followers to win free burritos using social media. Normally, those visiting a Chipotle in costume on Halloween would get the BOGO burrito deal. Now, Chipotle lovers can win one of 500,000 BOGOs through TikTok, Twitter and Instagram today to Oct. 31.  Chipotle says followers need to text a valid keyword to 888-222 before supplies run out.
"Over the years, Boorito has become a mainstay for Chipotle and while we can't have our usual in-person event, canceling completely was never an option for us," said Chris Brandt, Chipotle's CMO, in a news release. "This year, we've introduced a virtual Boorito to help our fans celebrate and enjoy our real food from anywhere this Halloween."
Lowe's
In addition to Walmart, Lowe's is celebrating with its own drive-thru trick-or-treat event. Families can reserve a spot at Lowes.com/DIY for the Oct. 29 event, which runs outside stores nationwide from 6 p.m. to 7 p.m. Revelers can do a curbside pick-up of candy and a small pumpkin at no cost.
"We know that customers still want to celebrate Halloween, even if the holiday may look different for us this year. While the pandemic has changed many elements of everyday life, the tradition of trick-or-treating doesn't have to be one of them," said Joe McFarland, Lowe's EVP of stores, in a news release. "Our associates take great pride in serving our communities, and as we all find new ways to safely celebrate the holiday, we look forward to welcoming families to our drive-through curbside trick-or-treating events this year."
Stop in for lightbulbs, and come home with treats.
Mental Health America
While being terrified may be fun for some, there's no denying that 2020 has been beyond scary for many, many people. That said, Mental Health America is on the right track with its Halloween messaging.
The advocacy group for people living with mental illness got started early, launching Oct. 1, rather than risking competing with myriad Halloween hashtags, events and messages this week. The organization asked for Facebook followers' feedback on a COVID-19-safe replacement for its annual in-person Halloween event, and posted a blog on the holiday's "dark history with mental health."
The resulting campaign successfully illuminates the mental health stigma associated with Halloween (haunted asylums, psycho killers, etc.), as well as sharing ways to be more mindful about costume choices and raise awareness of mental health issues. The message? "Remember, individuals living with mental health conditions aren't scary, but the way we treat them can be." The core output is clear, concise, and uniquely ties to the organization's mission in a way that doesn't feel forced.
With #Halloween coming up, it's important to remember that mental health conditions are not costumes. People with #mentalhealth conditions aren't scary, but the way we treat them can be. 🎃 Don't be a ghoul. pic.twitter.com/fzPbvr7s3A

— Mental Health America (@MentalHealthAm) October 1, 2020
Krispy Kreme
While the phrase, The More the Merrier, may be on pause for 2020, gifting can be a great way to keep in contact with those who are so close, yet so far away. Krispy Kreme provides its take on reverse trick-or-treating with its "Sweet or Treat Saturdays" promotion. Buy a dozen doughnuts and receive another dozen for just $1. The doughnut shop encourages dropping the second box off to friends, family or neighbors for a treat.
Krispy Kreme shops also are giving out free doughnuts to anyone who stops in, in costume Oct. 31, as well as celebrating the holiday with limited-edition monster doughnuts, featuring Wolfie, Frank and Drake.
We chatted with Krispy Kreme CMO Dave Skenna this week to learn more about the origins of the promotion.
Nicole Schuman is a reporter for PRNEWS. Follow her @buffalogal