Measurement is not just about numbers—it's about problem solving. For communicators, retrieving and presenting data is no longer enough. Data needs to be folded into everyday strategy as a sixth sense, combining with a human element to promote focused discourse.
To provide communicators with a look into the benefits of measurement and what's coming next, we enlisted expert Jenna Clark, head of measurement and insights, Google Communications. At Google, Clark advises her colleagues on strategy and measurement of earned media, by ensuring that communications strategy is rooted in data-driven insights.
Clark will present at the session, "Your Measurement Forecast: Essential Knowledge for 2020 and 2021" at the PRNEWS Crisis and Measurement Summit in Miami, Fla. on Feb. 25. They will look at the latest trends and developments across the various communications platforms, while also taking a look back at the progress many industry professionals have made in the measurement space.
In celebration of the new year, we talked with Clark to get a sneak peek into what she thinks are the upcoming trends and issues in measurement for communicators.
PRNEWS: What do you think are the most important trends for measurement in 2020?
Jenna Clark: Improving Technologies. Social listening (volume of conversation, sentiment, share of voice) and tracking social engagement has been great for PR, but we need more.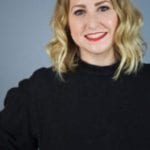 We need tools that are focused on the needs of communications on top of marketing needs. We need better tracking tools for normative benchmarking, and we need more platforms like Memo that have real metrics, straight from publishers—tools that help give a more holistic view of the PR landscape.
We also need to move from the idea of "data-driven" to "data-informed," using data in conjunction with the best analytical tool communicators already know how to access — their gut. We will get further when we take a hybrid approach that combines quantitative analysis with more research, human experiences, knowledge and other qualitative analysis.
And finally, increased scrutiny on starting with objectives. I know this sounds basic but sometimes I think we all need to step back and stop caring about "what metric to use" and think about what problem we are solving for. I think that the comms industry may have overcorrected for not having the perfect metric to having ALL of the metrics. Measurement doesn't and shouldn't be this complicated.
PRNEWS: Any ways measurement will be different than years past? How will it be similar?
Jenna Clark: It will be similar in the way that we are still looking at familiar metrics like social engagement, social conversation, social share of voice, stories published, backlinks, website traffic (I could go on and on). It will be different in the way that we look at these metrics, with more sophistication, and move towards weighted scoring (not new) to understand the full impact of crisis events and other cycles.
PRNEWS: You mention the importance of the evolution of measurement tools. What are your favorite tools for measurement?
Jenna Clark: Measurement is all about analytics, and you need analytics tools to really manipulate the data in a way that most tools just can't do on their own. By using Google Sheets with data from our vendor partners we are able to be a bit more flexible with the data than we are just using the tools alone. This allows us to manipulate the data and explore what we are most interested in.
It's also worth mentioning that anything done in Google Sheets can auto update to Google Slides and Google Data Studio — and all of these tools are free.
Google pitch aside, we really couldn't do any of this without the help from some of our favorite vendor partners, Cision Cloud Communications/Trendkite, Brandwatch, Buzzsumo are what we use most frequently. We are also very interested in Memo and Morning Consult that we would like to eventually incorporate into our technology stack.
PRNEWS: Why is measurement important for communicators to know and learn, rather than shipping it off to another department?
Jenna Clark: Why would you? No one knows what communicators do better than communicators. Measurement helps you prove your value and prove that what you do is important and effective. Incorporating measurement within the comms functions is about understanding your own value and being your best advocate.
PRNEWS: What would you tell someone who is looking to get started using measurement in their overall strategy? Someone who may not be as comfortable working with numbers?
Jenna Clark: Do it. To me, communications measurement is more about problem solving then it is numbers. If you have common sense, know how to use a computer, understand objectives and KPIs, you can do measurement. It's about understanding what your objectives are, starting with those objectives and figuring out how to track against them. Measurement doesn't need to be more complicated than that.
Of course, if you want to know your landscape and really succeed you have got to get a grasp at measurement, and if you are worried about numbers, the good news is the further into measurement you get, the more comfortable you'll get with numbers along the way.