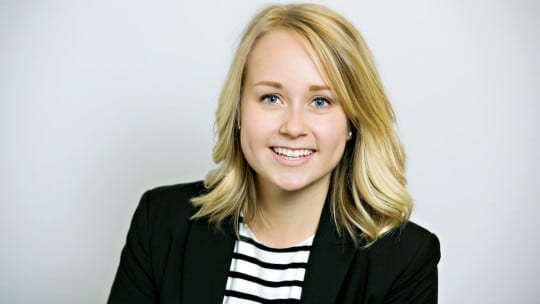 2017 PR People Awards — Student of the Year
Winner: Maddy Gildersleeve, Drake University School of Journalism and Mass Communication 
Simply put, excellence defines Maddy Gildersleeve's academic career. A dual-degree Marketing and Public Relations senior, she has excelled in the classroom where she has maintained a 4.0 GPA.
Just within the past year, she has garnered experience as a digital marketing intern for Meredith Corp., a social media and marketing strategist for Power Life Yoga and an account management intern for FCB Chicago, where she played critical roles coordinating project timelines and conducting digital media research.
Currently, Gildersleeve works as a marketing and communications intern for Banker's Trust, Iowa's largest bank by assets. In that role, she supervises the bank's new online education center, which has her writing and publishing weekly articles in collaboration with 16 company experts. Additionally, she monitors web analytics, oversees social media posts and online ad placements for the bank. Such extensive experience reflects her stated career goal to help grow great brands.
Since fall 2015, Gildersleeve has served as the Panhellenic Philanthropy executive director where she has led an ambitious effort to help educate and empower young women in developing countries. As a result of those efforts and other work, she was awarded with the Outstanding Sophomore Community Service Award by the College of Business and Public Administration. She is also president of her sorority and actively involved in both PRSSA and AMA.
Honorable Mention:
Rachel Willis, Duquesne University Media—Rachel Willis has maintained a 4.0 GPA while pursuing a double major in PR and International Relations and serving as an Endowed Honors Fellow. In April, she received Duquesne Media's outstanding senior award for public relations and is graduating December 2017 (a semester early). During her time at Duquesne she also gained valuable internship experience. As a sophomore, Willis worked as the marketing and PR intern for Small Farm Central, and has also obtained coveted internships at Gatesman in Pittsburgh and Edelman in D.C., after being selected as the 2017 Ruth Edelman PRSSA Fellow.
See all the winners and honorable mentions for PR News' 2017 PR People Awards.