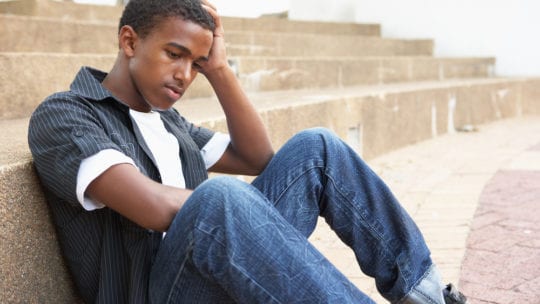 For high school seniors, receiving that fat envelope in the mail from a prospective dream college ranks as one of the most memorable days of not only the year, but their lives. Unfortunately, for many, the onslaught of coronavirus interrupted that dream. With so many unknowns, prospective students and families are left with dozens of questions, launching higher education communications departments into overdrive.
Dr. Dean Skarlis, president and founder of The College Advisor of New York, Inc., helps students and families navigate the admissions process, so they can pick the school that is the best fit. He's seen an uptick in concern, particularly among accepted students, who now face a stressful decision without the ability to physically visit schools, nor know if classes will resume on-campus in the fall.  
"There's so much anxiety in this crisis," Skarlis said. "If I were to give advice to admissions—the number one thing I'd say is to tell students it's going to be ok, everyone is in a similar situation."
Skarlis said the vast majority of campuses have moved admitted student day programs, which normally take place in March and April, to virtual, but the student response has been mixed. 
"Some students like them, they are interactive, but for some, it's 45 minutes of some guy talking, which most find irrelevant (in making their decision)," he said.

Hearing Student Concerns
Colleges and universities find themselves extremely busy during this time of year, typically fielding questions from prospective students on everything from financial aid to campus dining options. This year, schools received an influx of new questions: Will the campus be open in the fall? If classes are digital will they be priced differently? With immigration cut off, will I still be able to acquire a visa to study in the U.S.? 
For Erin O'Brien, assistant dean and chief enrollment and marketing officer for the University at Buffalo School of Management, the answers can't come quickly enough. 
"For almost all of them, we not only don't have the answers, we cannot control the timing of getting an answer," O'Brien said. "So, we are operating in a really vague environment, regardless of the degree program."
O'Brien and many other campuses triaged the incoming questions and have created central COVID FAQ pages on their websites. While some institutions have created overall COVID FAQ pages for admissions and enrollment, many schools within universities created individual pages geared toward their specific student audience department. For example, O'Brien's UB School of Management has a page addressing the concerns for graduate students accepted and thinking about the MBA program. The page also includes a link to the university's overall COVID FAQ. The university site launched in late January and has received over 500,000 unique views to date.  
"In the FAQ, we provided direct contact information as well as our commitment to patience, transparency in decision-making, and a commitment to share information frequently in several channels," O'Brien said. "Once we soft-launched the FAQ, we communicated via our CRM to all our prospects, applicants and admitted students that the FAQ was out there to answer immediate questions. We also planned a robust social media campaign around the launch of the FAQ, to support it."
Working as a Larger Team
Anyone working in higher education will tell you that a campus hums almost like a small city. This, of course, can lead to bottlenecks and red tape when trying to get things done, as it can with any large institution. But during this crisis, many schools are recognizing that with audiences coming in from different directions, it's important to organize a strategy, open communication lines and work together within departments, particularly in regards to admissions. Siloed departments will not work. 
For Emily Burns Perryman, interim vice president, institutional advancement/associate vice president marketing and communications at Daemen College, departments are working more closely than ever, while bringing in admissions counselors and financial teams to make sure messaging is clear and streamlined for prospective students. Particularly when inquiries come in from various platforms.
"Using as many channels of communication as possible (email, text, phone calls, virtual chats, Zoom, etc.), the admissions team has been working hard to communicate with students to help provide as much information as possible," Burns Perryman said. "We have ongoing collaborative meetings and processes between the admissions and the marketing and communications divisions of the college. Often-asked questions are identified quickly to help generate dynamic content that can be pushed out via the admissions communications flow as well as onto the college's social media channels to meet students where they are at and often answer questions before they are even asked." 
Meeting Students Where They're At
Thankfully this incoming class of students is no stranger to technology and virtual communication. Institutions have had to pivot their outreach strategies to those accepted, utilizing creative ways of reaching students through platforms they know well. 
For University of North Carolina-Chapel Hill's Kenan Flagler Business School, that meant doing an audit of current outreach and changing strategy to what worked best for students. 
"We recognized that our automated email campaigns that were appropriate six months ago may seem a little out of touch given the current situation," said Jackie Vetrano, UNC Kenan-Flagler's assistant director of marketing & prospect management, MBA programs. "An easy example was removing our calls to have prospective students visit us on campus. We know the best way to choose a program is to visit Chapel Hill, sit in on a live class, and network in-person with peers and our admissions team, but…here we are! We transitioned these on-campus experiences to webinar formats, still offering prospective students the opportunity to ask questions of our admissions team and meet professors." 
The school also created a Slack channel and Facebook group for the prospective class to create an interactive networking experience. 
Many other schools will also utilize video, live webinars and virtual tours to bring the campus to students who cannot be there. Niagara University's website includes a page of accepted student event recordings, which not only feature the campus itself, but discussions about majors and student meet and greets. University at Buffalo launched UB@Home, a series of virtual events for prospective students and their families. The series includes presentations, virtual campus and residence hall tours, one-on-one online chat sessions with admissions counselors and financial aid advisers, and on-demand offerings. 
"Our overarching message to our future students is, 'We want you here as much as you want to get here, and our only goal is to serve your academic goals and to get you enrolled in the program that you want to be in, when you want to be in it,'" O'Brien said. "By serving the students' goals, we serve our own."
Daemen College froze departmental social media accounts for the first few weeks of the crisis to assess needs and determine the right messaging for students. 
"(We) reformulated the social media strategy and editorial calendar to be very COVID-19-centered in addition to other key priorities of the college," Burns Perryman said. "We now have new guidelines in place for our social channels and for communicating during this time."
Skarlis advises his clients to be a little nontraditional and go under-the-radar to see what aspects of campus are really like, to impact their decision. This should keep social media managers and marketing departments on their toes. 
"What we are recommending is to go on social media," Skarlis said. "If they are planning on playing soccer—find the athletic department Twitter or Instagram account or maybe one for the soccer team, and really try to go in stealthily and understand what real students are talking about." 
It will pay off for colleges and universities to take creative approaches, putting student needs first. While many don't know what the fall 2020 semester will hold, communicators are doing their best to quell student concerns.