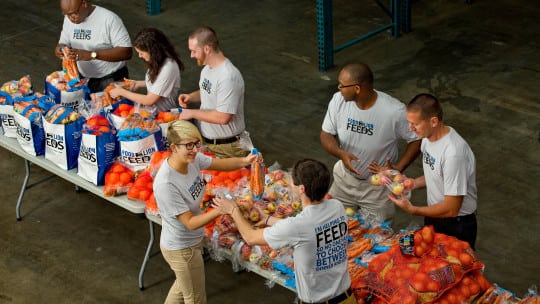 Each spring, PR News inducts into its CSR Hall of Fame a few CSR campaigns and overall strategies from brands that have not just made an impact over the past several years but have become model programs that will likely be referred to for years to come. This is the sixth year we're including the CSR Hall of Fame as part of PR News' Spring Awards luncheon, which will be held March 22 at the National Press Club in Washington, D.C., and will honor the winners and honorable mentions of PR News' CSR Awards and Nonprofit PR Awards.
Here are the 2017 inductees into the PR News CSR Hall of Fame.
Food Lion – Food Lion Feeds
North Carolina-based grocery store company Food Lion launched Food Lion Feeds in 2014 with a simple, essential message: "We believe no one should have to choose between dinner and rent." The company displays a passion for helping to solve hunger right now, while investing in and honoring those who work toward ending hunger in the future. To mark the launch of the Food Lion Feeds campaign, Food Lion pledged to donate 500 million meals to families in need by the end of 2020.
Food Lion kicked off its commitment by donating 1 million meals in five days in June 2014. In the inaugural week of the campaign alone, the company garnered 50 million media impressions and 1.5 million social media impressions. The in-store initiatives resulted in a total of 2.5 million meals donated.
As part of the Food Lion Feeds effort, the company relies on in-store programs, such as selling Food Lion Feeds reusable bags and specially marked Food Lion Feeds bagged apples, both in partnership with Feeding America. With each reusable bag and bag of apples sold, Food Lion donates five meals each to local food banks. As of March 2017, Food Lion Feeds had served 281 million meals.
IKEA – People & Planet Positive

Walk through the controlled maze of any IKEA store and read about the materials used in many of the products, and you know you're dealing with a company that is intensely aware of the planet's finite resources and of its responsibility as a global brand. This awareness is at the core of IKEA's People & Planet Positive initiative, which launched in 2012 and calls for its entire supply chain to be 100% sustainable by 2020. People & Planet Positive embodies many campaigns and is a global strategy and mind-set for IKEA—a mind-set that's driving new furniture designs, new materials, new models for collecting and recycling used furniture and new inclusive workplace initiatives. These new systems are already getting results that are changing public perceptions of IKEA.
Some of the financial year 2016 results of the People & Planet Positive mind-set: IKEA produced renewable energy equivalent to 71% of the energy consumption of its operations; replaced oil-based expanded polystyrene (EPS) in flat packs with fiber-based, fully recyclable materials; 100% of its cotton and 61% of its wood come from sustainable sources; and its entire lighting range switched to energy efficient LED. When world leaders met in Paris in 2015 to discuss climate change, IKEA lit up the city with 800,000 LED Christmas lights.
Michelin – Partnership with FIA for Beyond the Driving Test
Launched in support of the UN Decade of Action for Road Safety 2011-2020, FIA (Federation Internationale de l'Automobile) Action for Road Safety aims to help save the lives of 5 million people on the world's roads by the end of the decade. Since its launch, the campaign has been embraced by governments, stakeholder organizations and member clubs across the globe. In 2014, Michelin and FIA launched a U.S.-focused campaign, Beyond the Driving Test, aimed at educating inexperienced drivers about road and tire safety. The related stats are daunting: Automobile accidents take the lives of more than 5,000 American teens each year, and of the 2.2 million vehicle accidents taking place annually, 12% involve inexperienced drivers and are connected to tire-related issues such as insufficient tread or improperly inflated tires.
The foundation of Beyond the Driving Test is a series of YouTube videos underlined by two main goals: to have all 50 states include comprehensive tire safety information in their driver's ed curricula by 2020; and to solidify Michelin's commitment to road safety in the U.S. and remind consumers of the importance of tires through activations that target parents and their teen drivers. The campaign is homing in on the bull's eye—so far the campaign has won commitments from 41 states to update driver's education materials with consistent tire maintenance and safety information.
PNC Financial Services Group – Grow Up Great
A good start in life—it's what we want for our children, it's what we wish we had if we didn't have it, it's what we're eternally grateful for if we did have it. As a financial services company, PNC instinctively understands the connection between a child's early years and financial success later in life. So when it came time to launch a CSR initiative in 2004, PNC couldn't have chosen a more apt name and cause than "Grow Up Great."
PNC has invested $350 million in Grow Up Great, a multi-year, bilingual initiative that provides leadership, advocacy, funding, tools and volunteers to help parents, caregivers and communities prepare young children for success in school and life. The Harvard Business Review has noted admiringly how PNC has "pruned its disparate CSR programs" and zeroed in on early education with Grow Up Great. In so doing, PNC has made its community involvement easily identifiable to its own employees, which may be the most important element of any CSR initiative. Case in point: PNC employees have volunteered more than 650,000 hours and donated more than 933,000 classroom items as part of Grow Up Great.
Since 2004, Grow Up Great has distributed more than $121 million in grants that help young children prepare for school by focusing on readiness in vocabulary development, math, science, financial education and the arts. Through these grants to nonprofit organizations, the program has impacted approximately 3 million children throughout 19 states and the District of Columbia.
PR News' March 22 Spring Awards Luncheon in Washington, D.C., will be sponsored by Aflac and 3BL Media. See who the finalists are for the CSR Awards and Nonprofit PR Awards.