Users logging on to Facebook today will notice a new television-shaped icon gracing the platform as the social media giant unveiled its latest video feature, dubbed Watch, on Aug. 31.
The video hub features a mix of original long-form programming from creators and publishers and has hit the ground running with a lineup of hundreds of shows, including a virtual reality dating game, a scripted series from Refinery29 and a reality show based on the life of LaVar and Lonzo Ball, "Ball in the Family." Watch also includes a mix of live-streamed shows from individual creators and live events such as MLB games. A bevy of media outlets including Vox, Buzzfeed and ABC Network are already on board.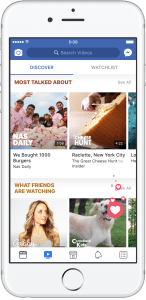 Watch seeks to do battle with YouTube for advertising dollars as it offers brand communicators a new platform for evangelizing branded content. Social media marketers from B2C organizations now have a new front to drive engagement with billions of users on the world's largest platform, and for B2B marketers, it may offer the ability to engage more specialized, targeted audiences. Facebook reportedly plans to run mid-roll ads on Watch videos, according to Digiday, which it currently doesn't allow for branded content.
Watch also adds another notch to Facebook's stated goal of building community.
"We've learned from Facebook Live that people's comments and reactions to a video are often as much a part of the experience as the video itself," wrote Daniel Danker, Facebook's director of product, in a blog post yesterday. "So when you watch a show, you can see comments and connect with friends and other viewers while watching, or participate in a dedicated Facebook Group for the show."
The feature offers a level of  personalization to help users "...discover new shows, organized around what your friends and communities are watching," wrote Danker. For instance, Watch highlights shows that spark conversation via a "Most Talked About" tab, as well as a "What Friends Are Watching"  option.
For now, show pages are limited to a select group of creators and publishers, but those looking to join that group in the future can do so here. For a run-down of the inaugural line-up, check out this guide from Variety.
Stay tuned.
Follow Jerry: @Jascierto