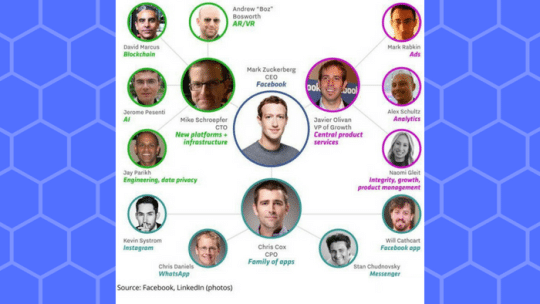 For the first time in its 15 years of operation, Facebook has announced a major overhaul of its corporate structure, shifting leadership of several areas to form three new divisions.
On May 9, Recode reported on this reorg, starting with the creation of a new "family of apps" division, overseeing Instagram, Messenger, WhatsApp and Facebook's core app. A "new platforms and infrastructure" division will supervise the company's future-forward offerings including blockchain, artificial intelligence (AI) and its augmented and virtual reality (AR/VR) efforts. And a third division, "central product services," will manage security, ads and growth elements that affect Facebook offerings across the board.
Here's a breakdown of each new division's primary function and leadership, and their potential implications for professional communicators.
Family of Apps: Chris Cox as a New Face of Facebook
Headed by chief product officer Chris Cox, the "family of apps" division brings together Instagram, Facebook, Messenger and WhatsApp under a single umbrella. While already a major figure within the company, Cox's elevation to a new public face of the company will take some of the heat off of Mark Zuckerburg as spokesperson in the fallout from the Cambridge Analytica scandal.
For communicators, the important things to watch will be how Instagram and Facebook's core apps continue to integrate and mirror each other (e.g., Facebook Stories and Instagram Stories; syncing Instagram posts to Facebook Business pages), and whether and how WhatsApp and Messenger will continue to operate as separate entities serving different markets and audiences.
New Platforms and Infrastructure: Facebook Enters the Blockchain Space
Facebook's CTO Mike Shroepfer will lead the "new platforms and infrastructure" division, overseeing a team dedicated to developing blockchain technology, as well as the company's AR, AI and VR efforts. David Marcus will head the blockchain team, a transition from his role as head of Messenger products. Marcus is the obvious choice to lead Facebook's blockchain efforts, having previously served as president at PayPal, as well as currently serving on the board of Coinbase, a cryptocurrency trading platform.
Speculation is swirling as to how Facebook plans to enter the blockchain space. A May 9 Futurism article argued that the cryptographically-secure nature of blockchain could be used as a tool to alleviate Facebook's data security problem. Alternately, the article speculates that investing in blockchain may just be a chance for Facebook to stake out real estate in a rapidly growing online industry.
Communicators inside and outside of the FinTech space would do well to read up on blockchain basics and have a layman's translation at the ready—now that Facebook's entering the space, C-suite executives will likely ask for a briefing in the near future. (Check out PR News' primer.)
Central Product Services: Refining Data Privacy and Ads 
The third division coming out of Facebook's reorganization is "central product services," which will oversee Facebook's ads, analytics and product management efforts across all of its products, according to TechCrunch. This division will be one for communications professionals to watch following GDPR (which takes effect May 25), as it will likely be making tweaks to targeting and data collection currently offered to brands advertising on Facebook. We will probably also see a continued effort from this division to make users aware of when and how they are disclosing their personal information.
Follow Sophie: @SophieMaerowitz