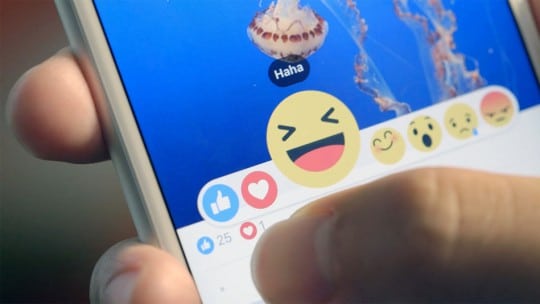 Facebook rolled out its new extension of the Like system yesterday, which the company is calling "Reactions." Now, instead of only having the option to "Like" someone's post on Facebook, users can now choose between six new emotions: Like, Love, Haha, Wow, Sad and Angry.
The company has been testing Reactions across the globe for more than a year, and it's now available globally in the mobile app and on the web. "To add a reaction, hold down the Like button on mobile or hover over the Like button on desktop to see the reaction image options, then tap either Like, Love, Haha, Wow, Sad or Angry," said Sammi Krug, a Facebook product manager, in a blog post announcing the rollout.
For many, the move is long overdue. Since Facebook's inception, users have lamented the fact that even after a tragedy—or anything not explicitly positive—liking a post was the only option, effectively bottlenecking emotional responses on the platform.
But this is even bigger news for professional communicators. While opening up the platform to a slightly more nuanced expression of human emotions, Reactions offer businesses five new emotions to more accurately gauge how their messages resonate.
Communicators have long been able to target their messages with a high level of specificity on the platform. And as Reactions continue to evolve, communicators will now be able to tailor campaigns to individual emotional responses by looking at the different ways users engaged with a particular message. Even though it's not clear how Facebook will allow businesses to use Reactions as a targeting mechanism, it's not hard to imagine the company allowing communicators to use the new metrics to, say, specifically target a set of users who "Wowed" a previous post.
Facebook says that its News Feed algorithm will deal with all the various reactions in the same way, which is to say that by reacting to something, it's implied that you want to see more of that kind of content. But this is only temporary.
"Over time we hope to learn how the different Reactions should be weighted differently by News Feed to do a better job of showing everyone the stories they most want to see," said Krug.
Even though all Reactions are treated equal at the moment, communicators can see Reactions to all of their posts on Facebook's Page Insights.
Follow Mark: @MarkRenfree