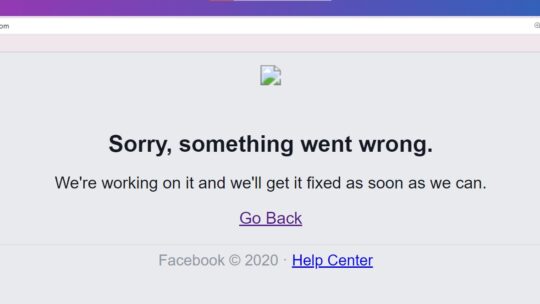 For those wanting a break from social media, Facebook unintentionally granted your wish yesterday (Oct. 4) when the platform, as well as its entities Instagram, WhatsApp, Messenger and Oculus, went dark. The outage lasted about six hours during the work day, and while it may have provided reprieve for some, it likely resulted in chaos for others.  
For many brands and organizations, Facebook serves as the main platform for advertising, retail outreach, virtual events and customer service. Some smaller businesses even use it as an alternative to a website to distribute information and promote their brand. However, much like any other service, especially a free one, users should prepare for closures or resource failures. 
The Problem of Over-Reliance
John Guilfoil, principal, John Guilfoil Public Relations LLC, provides PR and communication consulting services to more than 400 entities in 11 states, including municipalities such as public schools, police and fire departments. He counsels they not rely on a single platform or service, though he admits social media is important.
"Police and fire departments are like small-to-medium corporations," Guilfoil says. "They are budget-conscious and rarely have the funds for dedicated public relations staff. As a result, employees like police officers and firefighters end up assuming multiple roles in an agency and their time is stretched thin. This allows for the possibility of over-reliance on a single, familiar platform like Facebook. This is dangerous."
Guilfoil says many small-business owners, as well as town fire chiefs, feel they don't need a website. And they don't believe in updating sites. They use Facebook instead.  
"Yesterday, I went to some of their websites, and instead of a functioning news blog with lists of headlines and news stories, there was a small blank box where their Facebook page feed widget had been," he says. "When Facebook went down, their ability to communicate went down with it and their news archive disappeared too."
Utilizing Holistic Communication
It can be daunting or even intimidating for a small business or municipality to consider creating a website. However, Guilfoil advocates free, simple tools that help keep information updated in multiple places on the web. He points to sites like WordPress to launch a basic, responsive and ADA-compliant website. 
"We integrate websites into social media and email marketing software, but we teach our clients 'web first,' even in 2021," he says. "If we do our job correctly, we can not only save hours a week in manual posting time, but we can redundantly ensure that customers, voters, residents and stakeholders are less likely to miss content from our clients." 

During the Facebook outage, those Guilfoil advises were able to reach audiences because, while Facebook was down, their websites, Twitter, LinkedIn and email systems were up and running. And that's an important lesson—backup systems are important not just for Facebook, but other content platforms.
"If Constant Contact goes down, do you have your email lists? If Vimeo goes down, can you still post your videos? If Gmail/Outlook goes down, can you still reach your employees? The Facebook outage yesterday was apparently so bad that its own employees could not physically access office buildings because their smart locks were down. The technology we use is vital to our lives and work performance, but we always need contingency plans."
The Facebook outage is a good reminder that while social media allows us to do many things, it shouldn't be everything in a communication strategy. One flip of the switch can take all of it away, and an immediate fix will not always be found, so it's best to not forget your old friend the website, even in 2021.
Nicole Schuman is senior editor for PRNEWS. Follow her @buffalogal