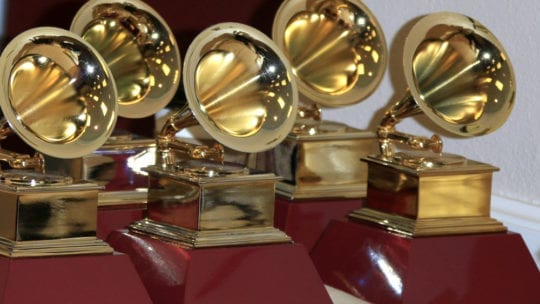 What a difference a year makes. After a 2018 Grammys ceremony that gave only one major award to a woman and prompted The Recording Academy president Neil Portnow to say that women should "step up" to advance their careers, the 2019 show deliberately promoted diversity.
Some of this was written on the wall. Last October, The Academy invited 900 people to join—all women and/or people of color younger than 39—to increase diversity in its voting body. Meanwhile, Portnow announced that his resignation from The Academy would take effect upon the end of his contract, in June 2019.  A change was gonna come, and after last night's broadcast, many felt that it finally had.
The 61st Annual Grammy Awards offered lessons on what diversity and inclusion mean to The Recording Academy, most for better and some for worse. Here's what we learned.
Women didn't just show up—they stole the show
At a pre-event brunch to honor Janelle Monae, the breakthrough R&B futurist reminded guests that women always were the backbone of the music industry. "That glass ceiling has to be broken," Monae said to cheers and applause after a sound of glass shattering was played. It was a powerful gesture that telegraphed the new direction The Academy would take—even if Monae didn't win anything for her celebrated 2018 album, "Dirty Computer."
At the show, Alicia Keys was a notably different choice of host. Comedian James Corden hosted the two years prior. When she walked onstage holding hands with Jada Pinkett Smith, Lady Gaga,  Jennifer Lopez and Michelle Obama, the crowd went wild.
.@MichelleObama makes a surprise appearance at the #GRAMMYs: "Whether we like country or rap or rock, music helps us share ourselves: our dignity and sorrows, our hopes and joys. It allows us to hear one another, to invite each other in" https://t.co/pEHw6h7hdE pic.twitter.com/AE9y2PG6Wy

— Hollywood Reporter (@THR) February 11, 2019
Diana Ross and Dolly Parton were honored with special tribute performances, and several of the night's top awards went to women. New York experimental pioneer Laurie Anderson received her first Grammy, H.E.R. won for Best R&B Performance, and Album of the Year went to country singer-songwriter Kacey Musgraves.
While accepting her award for Best New Artist, Dua Lipa used the platform to throw some shade at Portnow's comments from the 2018 show. After expressing her gratitude "to be nominated alongside so many incredible female artists this year," the singer added, "I guess this year we really stepped up."
Questionable production choices undermined a more diverse Grammys
That a much higher number of winners were women and/or people of color reflected the effectiveness of The Academy's move to diversify its voting pool. Elsewhere, in some production choices, remnants of the show's tone-deaf past lingered.
One example included Drake's acceptance speech for Best Rap Song. In what was perhaps the most outwardly critical acceptance speech of the evening, Drake noted that for an artist, true validation doesn't come from awards.
"You've already won if you have people who are singing your songs word for word, if you're a hero in your hometown," Drake said. "...there's people who have regular jobs who are coming out in the rain, in the snow, spending their hard-earned money to buy tickets to come to your shows, you don't need this right here. I promise you. You already won."
Immediately after this, Drake's mike was seemingly cut off as the broadcast went to a commercial. The show's producers defended the awkward transition, telling The Hollywood Reporter that "Drake took a natural pause in his speech, which led producers to believe he was finished, so they went to commercial." A source noted that Drake had the option to keep speaking after the break, but he declined.
The optics of cutting to a commercial couldn't have been worse, especially as they run counter to the Grammys' stated commitment to folding in more diverse voices this year.
Elsewhere, a tribute to Motown music that featured Smokey Robinson and Jennifer Lopez raised several eyebrows. Why was a woman who built her career around the Latin, Dance and Pop worlds paying tribute to a genre borne out of black culture and black identity? Suffice to say, Twitter took note.
Sorry. I'm not letting that Motown tribute go. It was horrible, the antithesis to everything Motown ever represented. It was a Black— people and culture— label that promoted Black talent— people and culture— with class and dignity AND SOUL!!!! #grammys

— Demetria L. Lucas (@demetriallucas) February 11, 2019
While these slight speed-bumps didn't fully halt the positive momentum of the 2019 Grammys, they illuminated a disconnect between the newly diverse voting pool and the show's producers. The JLo-Motown decision, in particular, communicated a lack of consideration for the culture that this segment was supposed to represent.
Leading up to the big night were other disconnects between the show's producers and the cultures of its talent—rappers Kendrick Lamar, Childish Gambino, and Drake all refused to perform for undisclosed reasons (Gambino's "This is America" still became the first-ever hip-hop song to win the Record of the Year award). The pre-Grammys also were cast in a negative light around a feud between Ariana Grande and show producer Ken Ehrlich. He wanted Grande to do a mash-up that she wasn't comfortable with.
PR pros often talk about the differences between diversity and inclusion—diversity highlights differences, while inclusion acknowledges diversity as a first step before encouraging diverse people to celebrate those differences together.
Though The 2019 Grammy Awards' winners proved that the Recording Academy was finally able to celebrate diversity, it was less successful at demonstrating inclusion around its programming.
Follow Justin: @Joffaloff