When Delta Air Lines joined a growing list of companies rescinding discounts for National Rifle Association (NRA) members, the company proclaimed its neutrality. On the flip side, when FedEx decided to keep its NRA discount in place, it also tried to stay neutral.
But Delta and FedEx quickly found that when it comes to an issue as controversial as gun control, you can't have it both ways: Each brand has now become a lightening rod in the storm they hoped to avoid.
In announcing the end of its NRA discount, Delta sought to toe the line.
"Delta's decision reflects the airline's neutral status in the current national debate over gun control amid recent school shootings," the company said in a statement. "Out of respect for our customers and employees on both sides, Delta has taken this action to refrain from entering this debate and focus on its business."  The company added that it continues to support the 2ndAmmendment.
But 'enter the debate' it did. While brands that take a political stand expect backlash, one particularly influential voice is trying to hit Delta where it hurts. The lieutenant governor of Georgia, Casey Cagle, threatened to eliminate a bill that would provide a lucrative tax cut for Atlanta-based Delta unless the company reverses its position and reinstates the discount.
I will kill any tax legislation that benefits @Delta unless the company changes its position and fully reinstates its relationship with @NRA. Corporations cannot attack conservatives and expect us not to fight back.

— Casey Cagle (@CaseyCagle) February 26, 2018
In response to that threat, the lieutenant governor of New York, Kathy Hochul, also took to Twitter to invite the airline to move its headquarters "to where you're appreciated." Her response quickly went viral, garnering more than 24,000 likes in about 20 hours:
.@Delta, as one of your most frequent flyers, know that the NY LG admires your principled stance. Let's continue our great relationship. NY is open for business & ❤'s Delta – move HQ to where you're appreciated? https://t.co/AZ8xeC0geo

— Kathy Hochul (@LtGovHochulNY) February 26, 2018
Last week, many national brands, including Best Western, Wyndham Hotels, Alamo Rent A Car, Enterprise Rent-A-Car and First National Bank of Omaha, rescinded their discount programs for NRA members. Activists have since targeted those remaining brands that haven't followed suit, including FedEx, Apple and Amazon.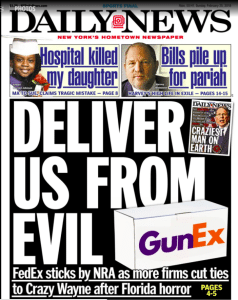 Amid calls for a boycott of FedEx, the brand's inaction spurred some very negative press. FedEx issued a statement late Monday that echoed Delta's by declaring its neutrality.
"FedEx opposes assault rifles being in the hands of civilians," read the statement. "Most important, FedEx believes urgent action is required at the local, state, and Federal level to protect schools and students from incidents such as the horrific tragedy in Florida on February 14th."
But the statement went on to say that FedEx will not "discriminate against any legal entity regardless of their policy positions or political views," noting that it has hundreds of organizations involved in discount programs. "FedEx has never set or changed rates for any of our millions of customers around the world in response to their politics, beliefs or positions on issues," it stressed.
In the process of rescinding its NRA discount, Delta sought to please both sides. And in the process of keeping its discount, FedEx sought the same.
What can brands learn from this? In today's highly charged political landscape, on an issue as divisive as gun control, there's no such thing as a middle ground.
Follow Jerry: @Jascierto