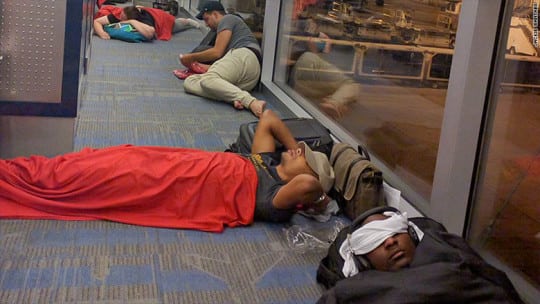 It's been a tough day for Delta Airlines. But it's been even more excruciating for the company's customers. A power outage at Delta's headquarters in Atlanta during the early hours of Aug. 8 left hundreds of flights canceled and delayed, effectively stranding passengers around the globe.
At around 2:30 a.m. EST a system-wide power outage caused global computer problems for the airline. The company canceled 451 flights due to the outage and is operating about 1,679 out of its nearly 6,000 scheduled flights. The mayhem caused by the outage inspired many passengers to vent their frustrations on Twitter.
My baby took his first step at MSP today. Literally turned from baby to toddler waiting for our #Delta flight.

— Chryssa (@chryssamarie) August 8, 2016
It's so bad over at #delta that they literally using a bucket to lower boarding passes from the office #deltadown pic.twitter.com/x5dvVTemDT

— Ben Morse (@Benathon) August 8, 2016
On #Delta flight stuck on tarmac. Starting to talk to a volleyball. I think I'll call him Wilson

— Pat Bagley (@Patbagley) August 8, 2016
Delta's been using Twitter, along with its online corporate newsroom, to deliver up-to-date information to its customers and the media. In a smart move by the company, a video apology by CEO Ed Bastian was tweeted out amid hourly updates about its system status and flight cancellations.
As technology becomes more heavily integrated into the airline industry, these types of outages and glitches are becoming major problems for airline brands. Only a few weeks ago, on July 20, Southwest Airlines experienced a similar technology related problem that caused days of delays and cancellations.
Delta's response to the crisis highlights a distinct difference between the two airlines. Known for its social media savvy, Southwest Airlines shared stories online that showed its customers and employees making the best of a bad situation. By focusing on unlikely connections—like the pilot who made origami planes with children—and interesting ways stranded customers passed the time, Southwest was able to put people at the center of its crisis narrative. Even though many were angered by the delays and cancellations, Southwest focused on the heartwarming ways people came together during a trying time.
Delta's crisis on the other hand still hasn't reached the 24-hour mark. The company seems to be doing its best to keep passengers informed and is offering refunds and waivers for ticket exchanges, which are both good things. But the power failure left thousands stranded, tired and angry with the brand. We'll have to wait and see if they can exhibit Southwest-style empathy.
Follow Mark: @MarkRenfree