The discussion about how PR pros can get a "seat at the table" is a perennial issue. Yet there has been little debate about what they should say if they get there. Part of the problem: Public relations is often considered a cost center for the company. In many organizations there hasn't been an expectation that PR could or even should drive business results. But the problem runs deeper. While the C-suite focuses on vision and strategy for the company, PR is mostly involved with the minutia. Even PR measurement is tactical in nature and is hard to connect to the bigger economic trends that define success in the corporate sector.
MAJOR DISCONNECT
The job of the CEO and other senior managers of a company is to meet the needs myriad stakeholders, including employees, customers, investors, communities and regulators. In a publicly traded company, the board of directors evaluates the CEO's performance based on share price and company strategy.
The CEO's job, of course, is to communicate the vision of the organization to all of its stakeholders, while the C-suite must find ways to demonstrate how its decisions influenced the company's financial performance. Anyone who helps with these efforts will be welcome in the boardroom.
On the other hand, success in the public relations function has long been seen as efficiently implementing communication programs that bring attention to the company and boost its image. In the worst-case scenario PR is seen as a function that brings publicity through media coverage. In the best case, PR moves beyond media coverage, demonstrating how these communications programs impact business outcomes.
While there is an understanding that it is important to connect public relations activities to business outcomes, the link is seldom straightforward.
The marketing vocabulary of "likes," "follows," "engagement scores," and other tactical measurements may not connect with business leaders, who speak in terms of "net profit," "total shareholder return," "ROI," and other calculations of financial impact.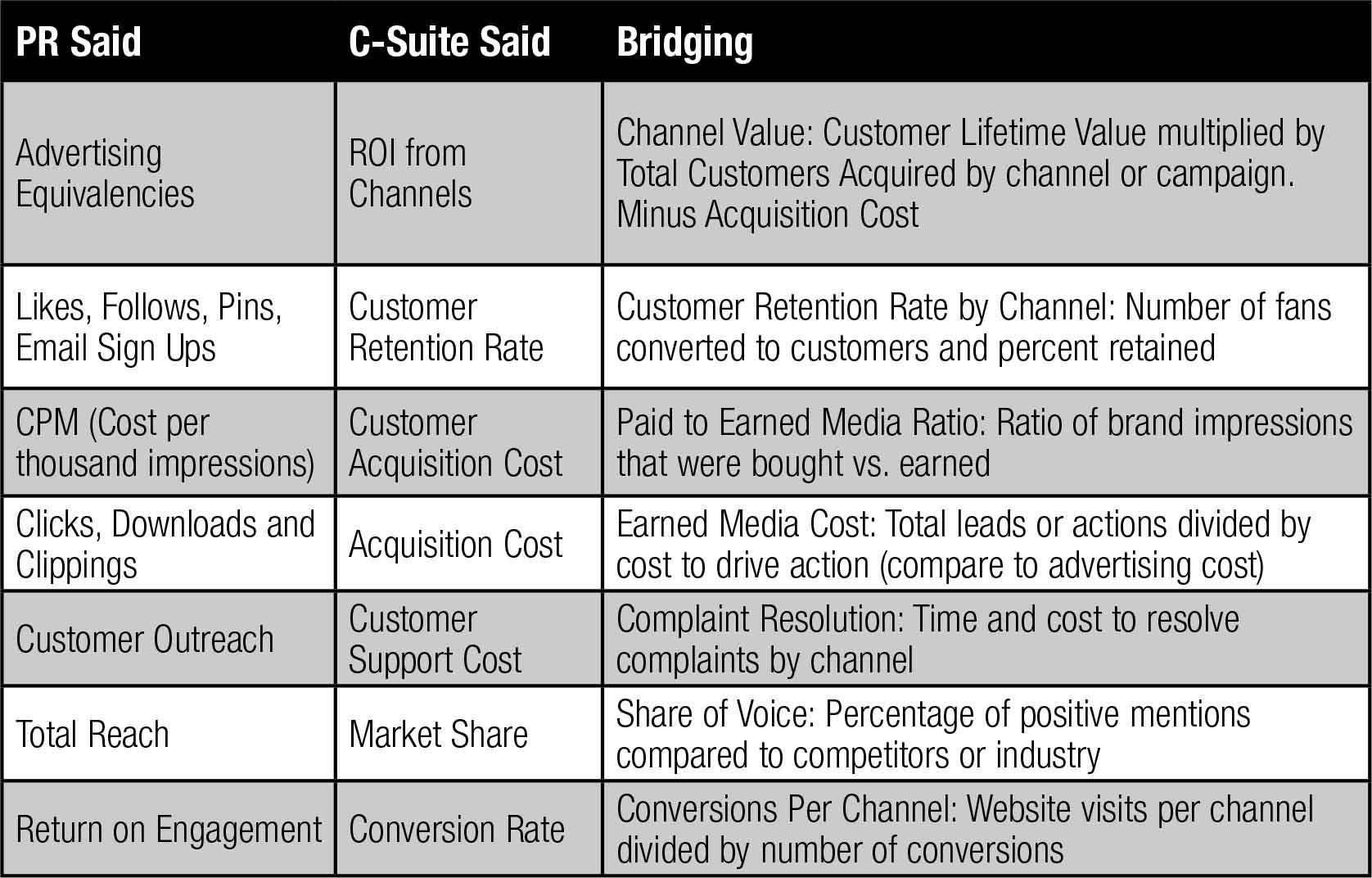 INPUT FOR OUTCOMES
To make the leap from tactical to strategic measurement, communicators need to understand fully the vision of the organization and how their department fits into it. If you know that your company values leads, then you can devise measurements that show how your tactical implementation is helping to drive leads.
If your organization is concerned with revenue or, in the case of nonprofit PR, donations, show how, over time, programs lead to revenue or donations. Every organization has a different business driver, making this more complicated.
Most businesses use KPIs (key performance indicators) to measure performance. Most of these fit nicely with these four buckets: financial metrics, customer metrics, process improvement metrics, and innovation and culture. Here's how PR can leverage each bucket:
▶ Financial metrics. Those thatcan be correlated to public relations activities include sales, revenue, return on investment, and sales attribution to marketing channels.
▶ Customer metrics. The ones that can be used to show success include average lifetime values, conversion rates, cost of support, customer acquisition cost, speed to conversion, per-cap rates, customer retention rate, customer satisfaction index and net promoter score.
▶ Process improvement metrics. Some, such as speed to conversion, leads and closing times, sales abandonment rates, channel success and attribution, cost per lead conversion and improved support costs, can show how each campaign assists with making the company more proficient or show where tweaks and improvements are needed.
▶ Innovation and culture metrics. These show how quickly a company can meet market demands, as well as how employee culture influences productivity. They can be measured by looking at the speed of adoption of new ideas, the rate of innovation, e.g., patents, as well as employee turnover rate and satisfaction.
CONNECT THE DOTS
The key is to take a few of the tactical measures that you use every day and combine them to paint a picture. For example, you can show how your reach correlates to clicks to a website.
At the website, you can look to see where the clicks came from and at what rate each channel leads to an action (download, email signup, purchase, etc.). The key is to ask probing questions, such as:
▶ Are your Facebook fans more likely to convert to customers?
▶ How much traffic will you need to generate from Twitter to get a sale?
▶ Does media coverage drive interest in your brand, such as visits to your website or mentions on social media sites?
▶ How many customers does each channel drive and what are their lifetime values?
When you think like a C-suite executive about business value, you can creatively implement meaningful measurements that connect to the overall health of your organization.
And you will provide value to the organization. You will also know what you're on the hook for if you do get that coveted seat at the table.
CONTACT:
Kami Huyse is the founder and CEO of Zoetica Media, a PR and social media strategy agency. She can be reached at kami@zoeticamedia.com. Follow her on Twitter, @kamichat.
This article originally appeared in the December 8, 2014 issue of PR News. Read more subscriber-only content by becoming a PR News subscriber today.