On Tuesday, the Trump administration told reporters that it had begun to phase out the coronavirus task force formed in January to coordinate the public health response to the virus.
Wednesday morning, however, following a wave of negative press, the President contradicted the announcement on his lectern of choice–Twitter. The task force would, he wrote, would "continue on indefinitely."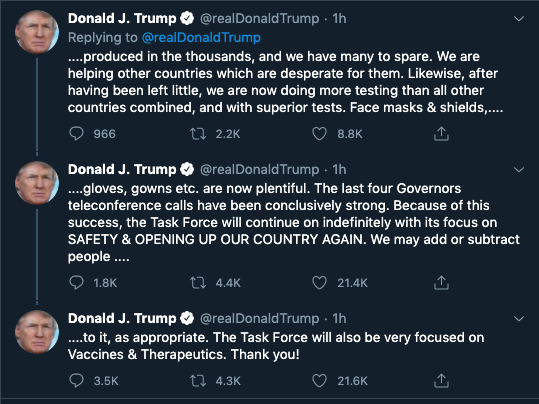 A number of botched press conferences over the last several weeks have illustrated the contrast between medical experts' advice and off-the-cuff musings from the president. In these tremulous moments, health experts Dr. Anthony Fauci and Dr. Deborah Birx, members of the task force, have been in the media hot seat, offering comments that conflicted with President Trump's questionable medical advice (like the injection of disinfectants).
In a traditional communications crisis plan, a chain of command is set up to denote which members of an organization's staff can respond directly to the press. In the case of the task force, health experts' comments have often been interrupted or overshadowed by Trump's word, akin to a CEO taking the stand with improvised remarks after a spokesperson has read the official company line.
Despite evidence that the pandemic's death toll and infection rate will continue to rise in the U.S., on Tuesday, Vice President Pence cited "the tremendous progress we've made as a country" as a reason to trade the task force for more informal consultation with medical experts, and said the task force would wrap up by the end of May. This proverbial back-pat signaled a pivot from crisis management to addressing the economic fallout from the pandemic.
As public discourse shifts toward opening the economy, so too, it seemed, has Trump's messaging focused more on economic rhetoric than public health, touring Honeywell's Phoenix, AZ N95 mask manufacturing floor on Tuesday. Trump and his team toured sans masks, as Guns N' Roses' rendition of "Live and Let Die" blared on loudspeaker.
We're ready! In Phoenix, N95 mask production has started to support @WhiteHouse #COVID19 efforts, creating 500 AZ jobs. pic.twitter.com/mNO1mDX0Jr

— Honeywell (@honeywell) April 30, 2020
At the moment, it seems the President would like to have it both ways: tackling medical concerns ("SAFETY") and economic challenges ("OPENING UP OUR COUNTRY") on the same bat channel, same bat time, same press conference playbook (or lack thereof).
This article is part of PRNEWS' ongoing daily COVID-19 coverage.