When a communicator proposes that it's harder than ever for a message to break through, a fellow traveler responds with a variation on "No kidding."
Today, Nov. 19, one week before Thanksgiving 2020, should be a day for stories about holiday travel tips and the best recipes for stuffing and cranberry sauce. All is far from lost, though. Savvy media relations pros know pivoting is in for 2020.
So, turning deftly, this year's pitch roster includes a more sobering story, about avoiding travel on turkey day.
As you know, it's not news that the world's homebound condition has resulted, at least in the U.S., in more cooking and spending on groceries. Accordingly,  the Thanksgiving meal won't go missing this year, according to NCS data. As such, this trend still offers a great opportunity for cooking and food pitches.
There's a twist, of course. A decline in travel will force many to prepare Thanksgiving for the first time. (Darn, we always went to grandma's.) As a result, stories aimed at rookie turkey makers abound, even from Martha Stewart, who's certainly cooked more than a few birds.
Politics and the Pandemic Dominate
More seriously, though, a couple of stories seem dominant, at least on cable news: the 2020 election and its associated fallout and the meteoric rise in coronavirus cases, along with the economic havoc.
Yet, the refrain that politics and COVID-19 stories are crowding out everything else, while partially true, includes an opportunity for the creative media relations pro. As virus cases rise in nearly every state, readers' interest in the story is falling rapidly, Axios reported based on data from Newswhip.
Indeed, the media continues to cover the pandemic, publishing articles at a high rate, yet the public is engaging with those stories less.
This is not merely a media relations concern. Despite the public's waning interest in coverage of the novel coronavirus, the health risks certainly have not diminished, they've risen.
Back in the PR world, the implications for media relations pros include the importance of pitching some non-virus stories. In addition, communicators need to find angles about the pandemic that will hold the public's attention. The data shows stories about the virus's risks don't result in strong engagement. Engagement rises, though, when a virus story tells how life is changing as a result of the pandemic.
As such, we're interested to see how two recent labor-related pandemic stories fare. Both center on brands that the pandemic previously tainted. The first concerns an open letter from Facebook content monitors who allege the company is forcing them to work in the office. The other alleges Tyson Foods managers had a pool going on how many workers would get infected at one of its plants.
Other Important Stories
Beyond major stories crowding the field, there is a bevy of second-tier items media relations pros can pitch. Today is National Carbonated Beverage with Caffeine Day. In addition, it's National Rural Health Day, National Play Monopoly Day, World Toilet Day and the Great American Smokeout. Yes, they make it a more crowded competition. On the upside, they offer opportunities for newsjacking (and we mean that in the nicest way). The most creative messages stick best, of course. For example, we note how localities are partial to their version of Monopoly.
And what would online messaging be without a cat-related example?
A direct message is the style for some brands, who want to break free from the cola wars.
We looked to one particular brand, hoping for a celebratory message on this day. Instead, there was good advice.
Smoking Out Coverage
Considering how the virus enjoys attacking those with pre-existing conditions, the #GreatAmericanSmokeout takes on added meaning this year. Several groups offered compelling, inspiring messages, some provided resources. One very good tactic concentrated on offering empathy, starting a quit plan and taking things one day at a time.
At least one group combined humor with its pitch.
Keeping It Positive
With spirits on a downward slope, there always is room to pitch upbeat stories. Pitching against the tide of depressing news seems a good bet at the moment. So, we enjoyed finding out about the saw-whet owl who survived an unintended trip to New York City with the Rockefeller Center Christmas tree. Incidentally, the bird's been named Rockefeller.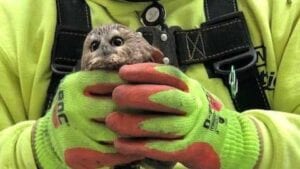 We're also glad our friends at Wreaths Across America will be able to place wreaths at Arlington National Cemetery, despite an initial cancellation.
And it's great to know the "Peanuts" gang will make it to non-pay television this holiday season. Apparently, Apple thought better of its decision to restrict this iconic brand–"The Great Pumpkin" was exclusive to Apple–to those with AppleTV.
Seth Arenstein is editor of PRNEWS and Crisis Insider