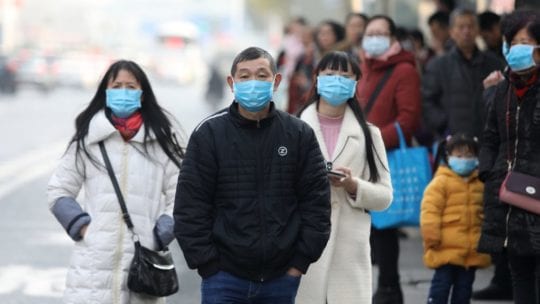 Technology has made the world much smaller. Still, in many ways, humans remain very insular. What's in front of us often receives most of our attention. As a result, where a news story occurs can be a difference-maker.
For example, the Boeing 737 Max air disasters in October 2018 and March 2019 occurred near Indonesia and in Ethiopia, respectively. Would Boeing's ineffective crisis response been more adept had the crashes occurred on or near U.S. territory? Speculation on this question continues.
Similarly, for weeks coronavirus has seemed remote. A story confined to China. This is especially so since the U.S. president's impeachment proceedings have clogged news coverage.
As of Jan. 30, the virus has killed nearly 200 people and has spread to more than 18 countries.  Nearly 8,000 cases are documented in China in all 31 provinces and regions.
[Update: Jan. 30, 2020, 3pm ET: The World Health Organization today labeled coronavirus a global health emergency. Some critics believe that determination should have come much sooner.]
Sometimes it takes global brands to become involved before a story breaks through. That's so with coronavirus. When Facebook and Apple disrupt their operations, we tend to listen more closely.
It's also helped that Wall Street, another anchor for many, has taken notice. Shares opened down this morning on reports that the virus is spreading.
Coronavirus: A PR Story
The virus also is a PR story. It involves internal and external communications as well as reputation management.
Incidentally, in China it has spawned several sadly fascinating stories of communications and politics.
[Update, Feb. 6, 11:30am ET: Dr. Li, the physician mentioned in the above stories, has died of coronavirus.]
We assume companies' safety precautions are genuine. Still, in a sense, they are PR.  Prospective employees and customers are watching. They glean information about corporate culture based on what companies do and say. How these companies communicate virus policies, or when they come out in the media, can be crucial evidence.
For example, during an Apple earnings call on Jan. 29, CEO Tim Cook said the company is "conducting temperature checks for [China-based] employees" and "frequently deep-cleaning our stores." It's also closed several outlets in China. Starbucks has closed 2,000 of its stores.
Similar to Apple, Amazon's response also emphasized staff. "We place tremendous value and focus on the well-being and safety of our employees," the Amazon official told Business Insider. "Out of an abundance of caution, we are restricting business travel to and from China."
A Special Case
Amazon is a special case. Anything it does or says about employees is scrutinized. This is the result of hits it took concerning its treatment of employees, especially warehouse staff.
Facebook was one of the first companies to make virus-related headlines, restricting non-essential travel to China from Jan. 27. It did not make this directive public. Bloomberg got the story, sourcing it to "people familiar with the decision." The sources refused to offer their names, fearing retribution, Bloomberg said. Facebook declined comment.
For some PR pros, there's no reason to broadcast internal directives. UK director of the firm Red Lorry Yellow Lorry, Hannah Patel, recommends companies avoid "making a proactive comment, unless this could directly impact their customers or staff." When you determine you need to comment, she says, "release the facts you have quickly and clearly – making the information as accessible as possible."
Beyond Big Brands
Iconic brands are far from the only organizations dealing with how to react to and communicate around the virus. Russia, for example, confirmed today that it will close its land border, the world's fifth largest, with China.
Elsewhere, an Italian cruise ship with 7,000 passengers aboard has become a floating quarantine. A couple onboard was isolated over fears it could be carrying the virus. Some reports have identified the couple as Chinese. Others avoid mention of their ethnicity. You can imagine the tension.
Similarly, a story headlined "Fear in the Age of Coronavirus: Chinese No Longer Welcome," details universities un-inviting Chinese exchange students, and a restaurant in Korea refusing to admit Chinese customers.
What to Do?
The relatively small amount of U.S. media coverage has been responsible, so far. One story has garden-variety flu being more of a concern. It is more frustrating when media outlets publish what some consider incendiary headlines, as occurred in the UK today.
We asked Patel, who's based in the UK, about communicating in such circumstances. "As there have been no cases confirmed in the UK [please see update below], our advice is to not fuel hysteria or speculate," she said. While some media are sensationalizing the issue…"our advice is to stick to the facts," Patel added. "Admit what you don't know, as well as what you do. There's no room for opinion in situations like these."
[Update, Jan. 31, 9am ET, 2020: The UK today confirmed its first cases of coronavirus.]
[Update, Jan. 31, 4pm ET, 2020: The US declared the coronavirus a public health emergency.  Presumably this development will increase U.S. media coverage of the story.]
Hinda Mitchell, president and founder, Inspire PR Group, offers similar advice. Communicating on public health issues is a balance between transparency and avoiding "unnecessary panic where none is warranted," she says.
In places where risk may be heightened, such as in the travel industry or anywhere large groups gather, "straightforward, fact-based communication and links to relevant third-party experts will help assure accuracy," Mitchell adds.
Says Matt Yemma, SVP, Peaks Strategies, "Companies and governments would be wise to learn from the Boeing example and lead the conversation with facts and assurances they are doing everything possible to keep people safe and healthy."
Building trust takes a lifetime, losing it can be done far quicker.
Note: A follow-on to this story is here.
Seth Arenstein is editor of PRNEWS. Follow him: @skarenstein