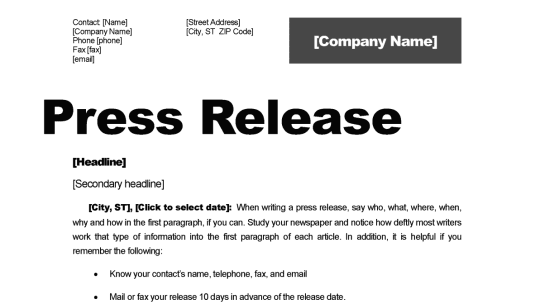 Writing makes or breaks a PR pro. At various times the bread and butter of a professional resume or a daily task that causes headaches and suffering, writing is the backbone of the public relations discipline. Not only do our clients or senior leaders rely on us to have strong writing and editing skills to put together press releases, bylines and social media and web content, but solid written communication skills are essential to creating and maintaining mutually beneficial relationships with media contacts as well.
There are dozens of reasons why good writing is such an important skill, but developing a unique writing voice can be a challenge. Add in the fact that many PR pros work at agencies where they have multiple clients across different industries and you're likely facing the dilemma of pinpointing and utilizing many different voices. Here are some tips for identifying your client's brand voice for better, more efficient written material.
If you want an accurate client voice, listen to the client.
When we get new clients, we sit down with the entire team working on the account, as well as the client, for an introduction call. We hear directly from client executives about their personal stories, information about the founding of the business and goals and milestones. Not only does this help us to identify a strategic path for the account, but we also hear the mission and values of the brand directly from the CEO or founder. Taking careful notes on these interactions helps us to identify patterns in speech and diction that can lead to a more natural voice in writing.
The important thing here is to listen. As PR pros, we're always prepared with a plan. We know which media to target and which strategic moves to make to ensure the best results for our clients. However, our clients have valuable information to contribute if we set some time aside to listen to what they have to say—and this goes beyond writing, as an open, transparent relationship will improve all client relations.
Tailor your voice to the medium.
After establishing a voice from direct client interaction, read all the existing written material for and by your client that you can get your hands on. Compare the tone and style of what's already out there with what you know about your client to get a good idea of what works and what needs adjustment. 
This seems obvious, but when a writer gets "in the zone," it can be difficult to take a step back and evaluate the big picture of what you're writing. Think about the audience: blog material? Email campaign? Byline? Web content? Press release? All of these media call for different voices. For a byline, cater to the publication; you're going to want to be less conversational and more formal for a business or academic journal, but a blog or email campaign can be shorter and more quippy.
Invent a brand character or personality.
We have several clients who find it helpful to create a "brand character"—a fictional person who embodies the brand's ideal customer. Take some time and think about who this person is: what he or she likes to do, his or her demographic information, what he or she responds to in media. Then, think about how this person would speak. That's an angle you can use to figure out how to write.
This is an especially helpful tactic for social media writing, because the audiences between social media channels can vary so much. Between Facebook, Twitter, LinkedIn and Instagram, you're looking at potentially four completely different groups of people, and it's critical to figure out how to communicate effectively with each of these.
Balancing your personal written voice and the wants and needs of your client can be challenging, but keep in mind the basics: Listen to the client, do some reading and get creative with your inspiration sources. Now there's just one thing left to do: Write! 
Jamie Izaks is the president and co-founder of All Points Public Relations, a Chicago-area public relations agency focusing on the franchising industry. He also co-founded the Northern Illinois Franchise Association.