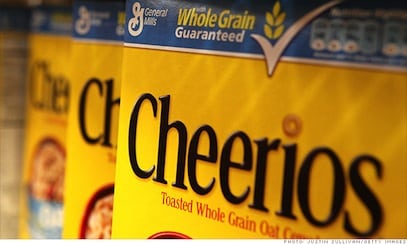 General Mills' Cheerios sent a strong message this week by removing GMOs from the generations-old cereal.
The debate about  GMOs has been hotly contested—especially following reports from prestigious institutions like Stanford, Oxford and Berkley, which revealed GMOs might not be all that bad for you. Still, public opinion seems to skew towards eliminating GMOs, or at least clearly labeling them.
The company is downplaying the change somewhat, and said it's not about safety concerns or pressure. Tom Forsythe, VP of global communications, indicated that the change is minimal, and consumers should still continue to enjoy the product as they have.
There are several takeaways here for PR pros. For starters,  the announcement has generated a lot of positive earned media for General Mills and the Cheerios brand.
But there's more at play here. By eliminating GMOs from Cheerios, General Mills is showing that it listens to popular opinion. The company is demonstrating that it's willing to transform or evolve when necessary, even if that means shaking up its day-to-day operation.
The bottom line: General Mills had little to lose here.  GMOs are not popular, and in the future foods containing GMOs will more than likely have to be labeled. That label could prove to be a stigma for some products, which means removing GMOs now is a safe bet for the future—and smart communications.
Follow Caysey Welton: @CayseyW