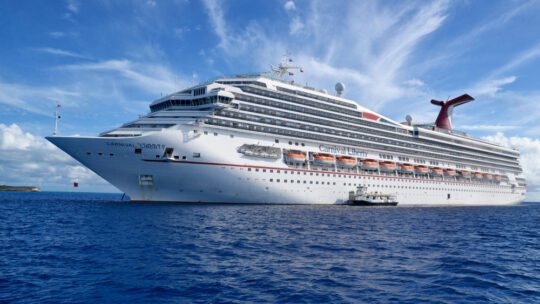 With PRNEWS' Crisis Management Summit coming March 8-9, 2022, in Miami, we spoke with Chris Chiames, chief communications officer at Carnival Cruise Line. Our March 9 keynoter, Chiames shared a preview of Carnival's customer-focused crisis response, as well as what he sees as the key skill of  crisis communicators.
Even in the dark, early days of the pandemic—when other brands' communication was all but frozen–Carnival continued to create news.
Unlike industries where the staff-to-customer relationship is more transactional, Carnival's crew is "on vacation with guests" throughout their travels, Chiames says. While the disappointment of trip cancellations initially dominated incoming communication, Chiames says Carnival guests were also asking, "'Is the crew OK? Those are our friends.'"
In fact, Chiames says some of his brand's most highly engaged communication throughout the pandemic was in response to audience concerns for the cruise line's crew–and thus Carnival's people-focused pandemic crisis response set sail.
"When our crew was coming home, our owned channels talked about what we were doing to take care of the crew," Chiames shares. Carnival engaged in that conversation and–like a good family text thread–kept customers apprised.
Internally, Chiames' team operates from an "every day is a crisis dress rehearsal" point of view. "By doing good work every day, before a crisis, you're able to maneuver" more effectively, Chiames says. This means "good content, good spokespeople and good relationships."
For Chiames, the ideal crisis team has "impeccable writing, good relationships with internal and external stakeholders and a high degree of trust" flowing between external stakeholders, communication practitioners and within the communication team itself.
As in sports, Chiames argues that a crisis-ready communication team practices fundamentals daily, because "when you're in overtime, the coach isn't on the field." A crisis leader, he says, must make sure everyone has "instinctual" PR fundamentals because in a moment of crisis "players have got to execute on the field."
Chiames' top PR fundamental is "impeccable writing." He's come across far too many communicators who haven't gotten the hang of the five-paragraph, middle-school essay and its inherent beginning, middle and end. Still, he doesn't like the term storyteller, as it's often ascribed to and by communication professionals.
"We're conversationalists," he argues. "Storytelling is one way" to drive conversation, but "we want to engage in conversations and spur conversations, to get people to talk about us." Still, to spur conversations you need to drive interest with a compelling beginning, middle and end—"the journey I want to take you on, and where I want to leave you."
Ultimately, Chiames sees enormous power in owned media channels as crisis tools, allowing brands to make their own news if the media is unwilling to cover a certain angle or insists on steering the narrative in a negative direction. A good two-sentence statement to the press, combined with a strong owned content strategy can go a long way, he says.
But those two sentences should be compelling, simple and as easy to remember as a good elevator pitch. Chiames' team members—selected for their writing, trust-building and conversation-driving skills—know the three words you never want to hear from the CCO: "I. Am. Bored."
Sophie Maerowitz is associate director, event content at PRNEWS. Follow her @SophieMaerowitz.