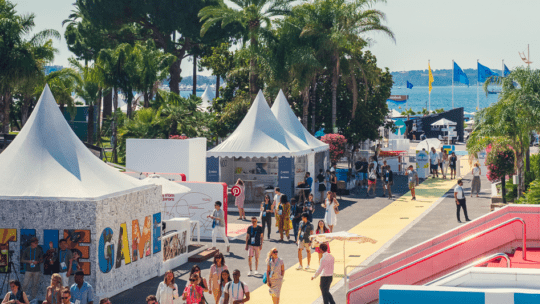 We're back at Cannes Lions after several years of being away and I'm feeling ambivalent. Whenever we return to places that we haven't experienced since the pandemic, we tend to compare our experiences to a version of ourselves that may or may not exist anymore. That great bakery, Ladurée, has not changed, but there are many things, personally and professionally, that are different now.
It's been several years since Cannes was an in-person event. And two years since George Floyd's murder. It was then that many started beating their chests demanding radical, Earth-shattering change.
The conversation expanded into more than just equality for Black Americans and people of color. Some companies turned over every stone thinking about inclusivity with respect to gender, sexual orientation, disability, class and more. Many organizations established DEI departments and committees and hired chief diversity officers.
Where are we?
Now that the flashiness of the headlines has worn off and we're all tired from the effects of being in a pandemic for far longer than any of us expected, true colors are starting to show. Have we made progress?
My rallying cry for this space is to get on board or get left behind. Not because it's a trend or relevant. If radical change is what we desire, then we will never achieve it in this shallow approach. We owe it to the generations after and before us, who weren't strong enough to change.
The world of 2020 doesn't exist anymore–from how we work, what we produce and the speed at which we do it. However, one thing remains from 2020: empty DEI promises.
A different path
I'm fortunate to be going to Cannes with socially responsible partners and as a leader, but I'm not the norm. I was an executive at one of the most prominent global agencies. And like many women in this space, I worked twice as hard and was judged twice as much, but that's why I started an agency.
I don't want that career path for anyone on my team. I challenge the way we work and want a different starting point for the next generation. Others can do the same.
We must empower people and give them opportunity, so that there's more diversity at places like Cannes Lions.
Brands want authentic communicators and marketers leading their campaigns. Gone are the days when the big dogs always won. Because now, bigger doesn't necessarily equal better. Sound morals and ethical responsibility equal better.
Some agencies are redefining culture and community, not only internally, but for clients and partners. When we work together, success is shared and creativity is endless, rather than gatekeeping who is allowed a seat at the table.
DEI today
Look at your agency and company culture. Who is in power and leadership positions? Can a woman, a person of color or members of other underrepresented groups climb the ladder? Are there a few rungs missing for them as you continue to empower white men?
In ten years, we will have survived COVID, monkeypox and whatever else Mother Nature has decided to throw at us. Here's hoping the crowd at Cannes Lions 2032 will exhibit the seeds of diversity and inclusivity we're planting today. As the saying goes–there will be two sides to history. I hope you choose the right one.
Jennifer Risi is founder and president of The Sway Effect
[Editor's Note: The writer's views do not necessarily reflect those of PRNEWS. We invite opposing essays from readers.]