"I'm too busy. I'm working on a crisis." You might have heard that phrase last week had you attempted to get in touch with a communicator at an insurer, a pharmaceutical firm or a hospital conglomerate.
We're, of course, referring to the announcement from Amazon, Berkshire Hathaway and JPMorgan Chase that they are working "on a long-term effort" to create "an independent company…free from profit-making incentives and constraints." Their goal is to reduce healthcare costs for employees and families of the companies and possibly all Americans. That's a wonderful thing if you work for one of those companies. If you're a healthcare provider or a competitor of one of the three companies, it's a crisis. But is it really?
Reality vs. False Perception
Goodness knows the PR profession (this publication included) plays fast and loose with the word "crisis." But knowing when you're in a crisis is more than a semantics issue.
This is one of the first points made by Kevin Elliott, U.S. director, risk & crisis communications practice at Hill + Knowlton Strategies, and Francesca Trainor Alt, EVP, group head of crisis and risk, Edelman PR. To them, something is a crisis when two of these three criteria are met:
An event has the ability to take an inordinate amount of resources and time to manage
It may pose a lasting threat to the brand or the company
An existential threat to the enterprise occurs: we may not be able to continue business-as-usual for even a limited time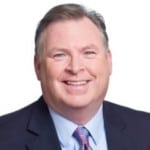 One of Elliott's favorite crisis aphorisms is apt: "If you treat a bad day like a crisis, you'll turn it into one. And if you treat a crisis like a bad day, you'll make it worse."
This last point relates to acceleration, which, he concedes, "is a soft skill" with "a bit of subjectivity to it," but is essential. Accelerants must be monitored and assessed or they can lead to a full-blown crisis, he says.
These accelerants include victims. "Don't think about how you or your organization perceive the victims of a crisis, think about how the public will perceive them," he says. Imagery is another accelerant, he says, pointing to the video of Dr. David Dao being dragged from an aircraft. "The imagery propelled the" United Airlines crisis, he says. There's also irony: an organization that prides itself on data safety and then is hit with a safety failure (think Equifax).
"If you're a communicator, you probably have the proxy of the public." You have to monitor accelerants, advise management "and be truthful" about how [the accelerants] are being seen in "the outside world."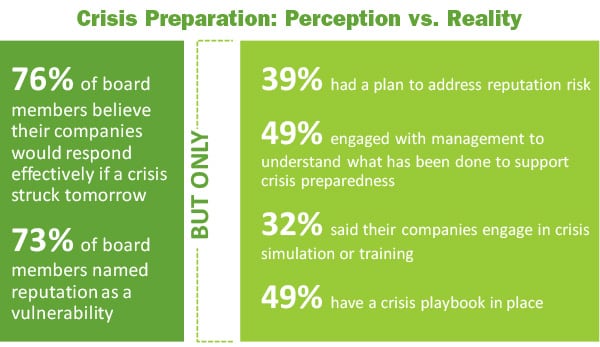 Good News: Predictability and Planning
While we know crises can and do move rapidly and can ruin a brand's reputation in seconds, the good news is crises are predictable. "They have a pattern," Elliott says. "They take a predictable course—you can see them as they're accelerating."
What Went Wrong?
Speaking of patterns, Trainor Alt offers more good news: The "root causes" of most crises in 2017 were "people issues" such as mismanagement, improper standard setting and poor governance, as the chart above illustrates. Notice how low cybercrime is here. That's expected to rise in the years ahead, of course, she says.
Preemptive Mindset at the Top
For Trainor Alt, it's crucial for organizations to embed "a preemptive mindset" as opposed to the more traditional risk-avoidant culture and crisis management framework. Making certain an organization is risk intelligent, she says, begins with robust CEO leadership and senior executives who understand risk and reputation and are able to integrate this knowledge into strategy, processes and culture.
How an organization prepares and responds to incidents and crises "makes all the difference in how long-lasting the impact of these events are on a company's health and resilience," she says. "Planning is indispensable." This includes monitoring, preparation and rehearsal.
Unfortunately, this is a hurdle. A PR News survey, conducted well before crises such as Harvey Weinstein/Matt Lauer, Equifax, Larry Nassar/USA Gymnastics and Wells Fargo, showed only about 50% of companies had a crisis plan; even fewer conducted rehearsals and training sessions ( PRN, March 8, 2016).
A 2017 study from Deloitte(see chart below), echoes the theme of unpreparedness. It adds the perspective of board members who believe their companies are prepared for crisis. The reality is on the right side of the chart. Look at the last line: 49% with a crisis playbook. Just 26% of those addressed rumor or fake news in their plans, a major concern of leaders. In addition, the 49% includes certain firms (oil, gas etc) that must have crisis plans by law.
So, What To Do? An Holistic Approach
Trainor Alt speaks of an holistic approach to crisis and risk that's aligned with business priorities. Its elements:
1. Strategic & cultural integration:Assure your company is risk-intelligent from the top and throughout the organization. Make certain you have the right board oversight and effective governance. "As a result, you are enabling risk taking to create value and not just avoid or mitigate [crisis]. It's about protection but also about promoting evolution."
2. Risk sensing and readiness:Today there's a more sophisticated advancement among leading companies in ensuring the preemptive mindset, she says. A question to ask: What are the risk-sensing technologies and analytics that need to be adopted?
While we know data is a term some communicators prefer to avoid, Trainor Alt and Elliott say beginning a crisis preparation plan with collecting data about "identification of risks…and understanding perceptions of stakeholders" is important. Also make sure you're conducting a 360-degree review of stakeholder perceptions throughout a crisis, from start to finish, she says.
You also must ensure you're conducting sophisticated planning for crisis scenarios, she says. "Just having an enterprise plan" for a generic crisis is no longer acceptable. Training also comes under this heading, she says.
3. Engagement and response: Here's where communicators need to ensure there's alignment within an organization in advance about risk-tolerance levels. During the moment of firestorm is not when you want to debate whether or not something is a crisis and "how far are we prepared to go before we take a different course of action?" Thinking through all that strategically in advance "is critical," she says.
4. Trust and recovery: This refers to knowing "in advance" about relationships. Knowing who influences your stakeholders and your reputation. Who is a credible source of media and can help you recover from a crisis.
What Not To Do in Advance
While training and working on aspects of preparedness (as outlined above) are critical, Elliott cautions it is possible to prepare certain elements "too much" and use precious crisis-training time unwisely. For example, 10 years ago, when updating websites was clunky and time-consuming, the standard advice was to have a full dark site with crisis information in reserve. Now, when content can be dropped quickly into sites and updating sites is relatively fast, your crisis preparation time is "much better spent" elsewhere, such as "training…that's the part that's going to bite you if you don't do it well," Elliott says.
Still, having easy-to-access digital content is important, he says, including a good library of images and schematics so you can explain your story visually during a crisis.
CONTACT: @kevinrelliott @francesca152