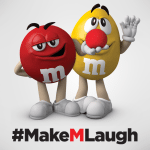 2017 CSR Awards
Social Media Campaign
Weber Shandwick – M&M'S #MakeMLaugh For Red Nose Day
Weber Shandwick - M&M'S #MakeMLaugh for Red Nose Day
In 2015, M&M'S launched a movement to raise money and awareness for the first-ever U.S. Red Nose Day, a campaign dedicated to raising money for children and young people living in poverty by simply having fun and making people laugh.
In 2016, working with Weber Shandwick, M&M'S sought to #MakeMLaugh again and firmly establish the brand as an important partner of Red Nose Day U.S. through the 30 Days of Laughs Challenge. Each day, M&M'S and their partners issued a challenge on their Twitter page to incite action, laughter and donations from fans. From hugging a tree to balancing a red M&M on their nose, influencers, celebrities and the M&M'S characters prompted fans to #MakeMLaugh.
To launch the 2016 #MakeMLaugh 30 Days of Laughs Challenge, M&M'S partnered with YouTube creator Jon Cozart to create a funny video about the evolution of challenges. The video has received over 570,000 views to date and Jon also issued and participated in multiple challenges throughout the campaign (including opening a bag of M&M'S with no hands).
To help issue the 30 daily challenges, the brand worked with individual influencers—including Rach Martino, Andrew Kuttler, Darius Benson and the guys behind MannnTV—to create entertaining photo and video content. M&M'S also partnered with three influencer networks to drive mass awareness around the content and participation in the challenges, including Popular Pays, JJ Community and Clever Girls Collective.
Not to be outdone, the M&M'S characters joined in the fun by issuing several of the daily challenges, showing off their dance moves and taking a group selfie in red noses. Across M&M'S social channels there was a daily drumbeat of #MakeMLaugh content.
In the past two years, M&M'S has made a total donation of $2,250,000 to the Red Nose Day fund and spurred countless laughs. Media coverage and social media conversations drove a combined reach of nearly 600 million impressions. The #MakeMLaugh hashtag was used nearly 110,000 times over two years, creating equity with the brand and the charitable partnership. Social media content drove nearly 3 million engagements (comments, likes, shares, views) and prompted immeasurable laughs.
Honorable Mentions:
CBS EcoMedia - Charity Champions League: The Competition for Social Good
CIT - Foodortunity
Food Lion Feeds - The Great Pantry Makeover II
Largemouth Communications - Kyle Petty Charity Ride Across America
MSLGROUP for The Home Depot Foundation - Celebration of Service: #ServiceSelfies Create Independence at Home for U.S. Veterans
Workiva Inc. - July 2016 Sustainability Report