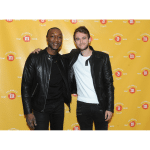 2017 Social Media Awards
YouTube | Individual Video
Weber Shandwick & M&M'S – 75th Anniversary: #CelebratewithM
In 2016, M&M'S set out to celebrate one a'M'azing birthday. It's been 75 years since the candy-coated chocolates were first available to troops during World War II. Since then, they've become an American icon and are beloved by generations of fans.
To celebrate this milestone birthday, Weber Shandwick helped M&M'S launch a year-long, socially-designed #CelebrateWithM campaign to share exclusive branded content, recount iconic brand milestones over the years and surprise and delight life-long fans.
To kick off the celebration, M&M'S released an exclusive, modern remix of Sammy Davis Jr.'s "The Candyman" song by artists Zedd and Aloe Blacc. To continue to engage fans and media, they organized a birthday party to release the new song and created the brand's first-ever virtual reality experience, giving fans an exclusive look into the beloved M&M'S characters' lives through an innovative 360 video.
During the birthday party, the team captured 360 video content of the six different spokes-candies' apartments so fans who weren't able to attend the party could get a glimpse into their lives. The video took fans on an informational and fun tour of each of the apartments, sharing voiceover details of each room, describing the iconic characters–Red, Yellow, Ms. Green, Ms. Brown, Blue and Orange–and their distinctive personalities.
The M&M'S 75th anniversary party, 360 video and social media campaign generated more than 341 million impressions to date. The 360 video was the first of its kind for any Mars brand and received nearly 3 million combined views across Facebook, Twitter and YouTube.
Honorable Mentions:
Coyote Logistics - Who is Coyote?
Maryland Transit Administration - Express BusLink Launch
Nexon America and Wonacott Communications – LawBreakers: Between Our Guns Trailer
VaynerMedia - Ruby Tuesday Shy Girl Video