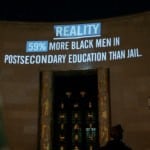 2017 CSR Awards
Nonprofit/Corporate Partnership
Viacom – Witness the Power of Story
In November 2015, Viacom launched the "Witness the Power of Story" campaign in partnership with WITNESS, the global human rights organization co-founded by musician and activist Peter Gabriel to inspire change through the power of video.
Viacom aimed to create and empower millions of citizen journalists, while raising awareness for Viacom's CSR initiatives and reminding people of the powerful tool that rests inside their pocket every day: a mobile phone.
The first step in creating a positive difference was to shoot videos that would motivate viewers to share their stories for change. The intention in creating these PSAs was to get people to stop and take notice, calling on passersby to bear witness to jarring facts on different causes. Over a 3-day period, Viacom projected images onto iconic New York buildings.
These projections told the story of each brand's social issue; for instance, MTV's "Look Different" projections showed shocking messages of gender bias and stereotypes pervasive in society. Spike's Veterans Operation Wellness video stopped people in their tracks with projections like, "22 Veterans Commit Suicide Every Day," and Logo's LGBT Equality projection read, "In Saudi Arabia, Homosexuality is Still Punishable by Death."
With these projections, Velocity, Viacom's in-house creative agency, captured the authentic, organic reactions of passersby. What resulted was a series of inspiring spots that not only shed light on important issues but also served as testament to the power of story. The spots began airing across Viacom networks on November 20, 2015. Since then, the PSAs have reached over 160 million viewers. Viacom and WITNESS' social media platforms amplified the campaign's message by sharing the spots using #Story4Change and linking to witness.viacom.com.
The campaign ultimately received 33 million social media impressions and the hashtag was used by thousands including celebrities like Nick Cannon and Imam A Siddique. Overall, the campaign received over 26 million impressions and coverage from industry outlets, including Variety Magazine, Inc., PRWeek, AdWeek and MediaPost.
Honorable Mentions:
Anthem Foundation - Combatting Childhood Obesity with a Triple Play
BlueCross BlueShield of Western New York - Fitness at Canalside
CBS EcoMedia - Ending illiteracy in America
The Val Skinner Foundation and Discovery Education - Decoding Cancer
International Paper - Forestland Stewards
IRPC Public Company limited - From Bench To Community
MetLife - Dream,Save, Do: Financial Empowerment for Families
Multiple Myeloma Research Foundation, Takeda Oncology and CURE Magazine - Moving Mountains for Multiple Myeloma