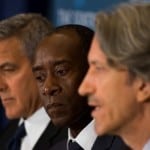 2017 Nonprofit PR Awards
Publication or Report (online or print)
The Sentry and the Enough Project – The Sentry Investigative Report: War Crimes Shouldn't Pay
Following a two-year investigation into the corruption plaguing South Sudan, The Sentry—a watchdog organization co-founded by George Clooney and John Prendergast with actor and activist Don Cheadle—released the findings of a report exposing the profiteers and wealth-motivated forces benefiting from prolonged conflict in South Sudan.
The Sentry enlisted Edelman to help develop a communications program to support the launch of their first report and raise awareness to these issues with key influential international audiences.
To best amplify the launch of the report, Edelman fed into a comprehensive media strategy that seeded the report and its findings with key journalists prior to the report's launch, coordinated the breaking of the story internationally and across time zones and drove coverage in top-tier print and broadcast throughout the launch day and beyond.
As a part of the overall strategy, Edelman aided in the coordination of a launch day press conference to leverage the celebrity spokespersons, namely George Clooney and Don Cheadle, offer additional images and video content from the report for media and provide additional opportunity for commentary to attending journalists who would otherwise be unable to speak to the celebrities. The event was designed to introduce the key findings to print and broadcast media, as well as offer additional context on the report through key multimedia presentations and images.
Understanding the significance of the report, and capitalizing on Clooney, Cheadle and Prendergast's availability, Edelman helped line up a series of post-conference interviews with national broadcast outlets. Following the launch, the Sentry, partnering nonprofit the Enough Project and the Edelman team sustained the story beyond the 24-news cycle to drive awareness that could not be ignored, in the United States or in South Sudan.
In total, the Sentry report generated more than 240 pieces of high profile global coverage across numerous mediums during the week and trended in Google News on launch day and the following day. As a result of the overwhelming amount of coverage, the government of South Sudan was forced to acknowledge and deny the report, threatening legal action and further highlighting their illicit crimes against the people of South Sudan.
Honorable Mentions:
Ascension - Good Day Ascension: A Journey to One Integrated Ministry
Georgetown University Center on Education and the Workforce - America's Divided Recovery: College Haves and Have-Nots
JEVS Human Services - e-Inside JEVS Newsletter
K9s For Warriors - Dog Tales
Kenneth Rainin Foundation - Turning Points: 2015
Lynn University - Annual Edition 2016
National Council of Juvenile and Family Court Judges - Enhanced Resource Guidelines