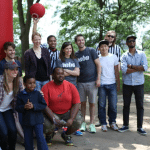 2017 CSR Awards
Agency CSR A-List
Nebo Agency
Nebo is a human-centered agency that was created 12 years ago as a reaction against what its founders saw as the marketing industry's deepest flaws. It began in 2004 when half-brothers Adam Harrell and Brian Easter decided to bring humanity back to an industry they felt had been dehumanized.
They saw an environment where employees were viewed as commodities, agencies viewed their clients as ROI calculations, contracts were misaligned, outsourcing was the norm and everything was driven by acquisition and profit. Nebo believes great work comes from understanding the needs, wants and perceptions of a client's audiences. By leveraging expertise in digital marketing strategy, user experience, paid media, public relations, social media, web analytics and conversion rate optimization, Nebo helps clients achieve their digital goals with the resources of a large full-service firm and the agility of a boutique agency.
Nebo works with companies of all sizes, from Fortune 500 brands to emerging firms. In the past two years alone, it has won more than 100 digital awards, garnering both local and national recognition from industry organizations and awards competitions.
Nebo's passion for animal welfare has been a constant theme throughout the years. When a few of Nebo's team members crossed paths with the ASPCA at a conference, discussions stirred up an idea about using Nebo's digital capabilities to serve the ASPCA and our feathered friends. Nebo wanted to create a platform that would educate the public about the horrors of factory farming and convince them to make more humane poultry purchasing decisions.
Thus, the Change Your Chicken Challenge was born. The goal of this initiative is to get 50,000 people to sign a pledge promising not to purchase chicken from any vendors that sell chickens raised in factory farms with inhumane conditions. Nebo donated time and money to developing the campaign, website and promotional program for the challenge. Within the first month, the campaign amassed more than 20,000 pledges.