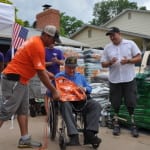 2017 Nonprofit PR Awards
Media Relations
MSLGROUP – Celebration of Service: Creating Independence at Home for U.S. Veterans
MSLGROUP - Celebration of Service: Creating Independence at Home for U.S. Veterans
The Home Depot Foundation, the philanthropic arm of The Home Depot, is focused on improving the homes and lives of U.S. military veterans and their families. Team Depot, the company's associate-led volunteer force, activates year round, with a concentrated effort during Celebration of Service, a two-month volunteer campaign.
In Celebration of Service's fifth year, The Home Depot Foundation needed a fresh approach. In previous years, projects were numerous, but lacked major repairs. Local media markets were saturated from four years of year-round outreach promoting the same storyline. Nationally, a crowded media landscape needed new fodder. Consumers were eager to join Team Depot's efforts, but were not able to join Team Depot at project sites.
With that in mind, the Home Depot Foundation challenged MSLGROUP to implement a campaign that would continue to inspire The Home Depot's workforce and better engage nonprofit partners and consumers.
MSLGROUP executed a nine-week media relations campaign, targeting national and local print, online and broadcast outlets in 210 markets. Custom angles targeted specific national reporters focusing on veterans' affairs, nonprofit work and personal interest stories. Ongoing research identified compelling veteran stories to personify the staggering issues and statistics. Additionally, the team published custom content on The Home Depot's digital newsroom, Built From Scratch.
On social media, MSLGROUP launched the #ServiceSelfie social giving campaign to engage consumers, associates, nonprofit partners and journalists nationwide. Participants were encouraged to celebrate service in their own communities, and The Home Depot Foundation committed to donating $1, up to $1 million, for each social media action. Actions included sharing a #ServiceSelfie on Twitter or Instagram or liking, commenting or sharing one of nine weekly Team Depot Facebook posts honoring nonprofit partners that serve veterans. The program was promoted through outreach to select media and influencers with mailers, which invited them to be honorary Team Depot members and armed them with Team Depot selfie sticks to share their own #ServiceSelfie.
The Home Depot Foundation's 2015 Celebration of Service created safer, more accessible homes for more than 750 veterans and their families. Approximately 13,286 Team Depot volunteers in 315 cities partnered with 291 nonprofits to work on 367 volunteer projects. The #ServiceSelfie campaign increased the program's reach on social channels as consumers and associates contributed more than a million social actions to raise $1 million for nine veteran-focused nonprofits. The effort also earned more than 383 million impressions across traditional and social media, a 4% year over year increase.
Honorable Mentions:
American Academy of Pediatrics - Children and Media Recommendations
Ascension - Diversity and Inclusion Op-ed Program
Better Business Bureau - Consumer Education
Goodwill Industries of the Southern Piedmont - Werkin' the GW Look Helps Put People to Work
Greenough - Yale Peabody Museum | David Friend Hall
National Hydropower Association - UnlockHydro
SKDKnickerbocker / Shatterproof - Fighting the Opioid Epidemic with PDMPs