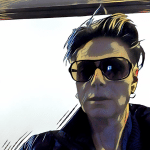 For Maria Benvenuti, great PR and great food go hand in hand.
Benvenuti, one of the first publicists to specialize in New York's restaurant scene, is hailed as a trailblazer in culinary communications, helping such celebrated chefs as Mario Batali and Chef Alain Coumont of Le Pain Quotidien launch their local brands.
Benvenuti established her first company in 1986 at just 23 years old, producing events for the likes of The Metropolitan Museum of Art and Martha Graham Dance Company that featured such A-list attendees as Frank Sinatra and Andy Warhol. In 1993, she shifted her focus from event production to food PR and founded Benvenuti Public Relations, dedicated to the restaurant and entertainment scene in New York.
Since then, Benvenuti has used her PR savvy to launch successful restaurants in up-and-coming neighborhoods like Soho, the East Village, Nolita and the Meatpacking District for chefs such as Rick Moonen, Nobu Matsuhisa, Toshio Suzuki and Harold Moore. Some of the high-profile restaurants she has brought to life include Sushi Samba, Boom, Markt and Juice Generation.
But her influence extends well beyond New York City. Benvenuti Public Relations expanded into Miami, launching such notable local landmarks as The Pelican Hotel—owned and designed by fashion giant, Diesel. She has also publicized restaurants and coordinated high-profile events all over the world, including Paris and Rio de Janeiro.
Most Interesting Fact Not Found on Maria's Resume
"I was a window dresser and did visual display at Macy's 34th Street [Harold Square] before getting into public relations and event production. I speak four languages fluently, Portuguese, Italian, Spanish and English."
Maria's Advice to Her 20-Year-Old Self
"Start growing your business (at 20) and stop globetrotting."
Maria's Profession in an Alternate Universe
"I'd like to become a restauranteur, I have a great concept for a Brazilian restaurant I'm currently working on."