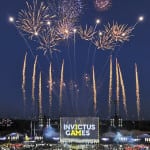 2017 Nonprofit PR Awards
Event PR
Hill+Knowlton Strategies – Victory: Invictus Games Orlando 2016
Prince Harry launched the international Invictus Games for service men and women to harnesses the power of sports to inspire recovery and support rehabilitation. The Invictus Games are the only international event of its kind involving nearly 500 service members across 14 countries competing in 10 adaptive sporting events. They showcase the spirit and determination of men and women in uniform.
Invictus Games Orlando 2016 marked the second international event and the first time the Games would be hosted in the United States. To quickly build momentum, Hill+Knowlton Strategies identified the need to create its own news cycles in order to engage media and the public. This included an Invictus Games Flag Tour that traveled the country before arriving in Orlando, announcements of sponsors and celebrity endorsers and game participants like First Lady Michelle Obama.
Hill+Knowlton also secured exclusive partnerships with national outlets like People, ESPN, USA Today and FOX News. To engage Florida media, Hill+Knowlton identified local competitors, arranged facility tours, forged partnerships with the Orlando Sentinel and local broadcast affiliates. Strong video content highlighted competitor stories to drive social media engagement, provide visual storytelling assets for traditional media and facilitate sponsor solicitation.
The team produced 32 features on competitors, ambassadors, fans and caregivers to tell the Invictus story from many perspectives. They also developed 31 sport match reports to show that adaptive sports have just as much competitive grit, excitement and athleticism. Real-time event results were posted online—and engaged and reached more than 6 million fans with compelling social content.
The coverage earned and stories told pave the way for the Invictus Games Toronto 2017. From a roundtable of competitors on ESPN Sportscenter to a TIME magazine image gallery to a trending "Twitter Moment" during the Opening Ceremony, the Hill+Knowlton team achieved its goal of widespread awareness. They raised broad-based awareness and engagement, reaching an audience of more than 2 billion. Awareness included over 400 news stories, more than 1.7 million views of 16 developed videos, 4.41 million Twitter impressions and 5.5 million Facebook impressions.
Honorable Mentions:
AAP Foundation - 25th Anniversary
Havas PR - Earth To Paris: A Global Movement for Bold Planet Action
Providence Institute for Human Caring - Right, before I die
Society for Human Resource Management - 2016 Annual Conference & Exposition
The Kimmel Center for the Performing Arts - Philadelphia International Festival of the Arts