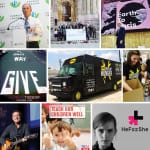 2017 CSR Awards
Agency CSR A-List
Havas PR North America
Havas PR has decided that if time is money, the agency will donate time to causes it cares about most. Through its Baker's Dozen strategy, Havas has committed to giving back about $1 million worth of service for every $12 million of revenue. The agency donates in excess of $1 million in time (a minimum of 10% of staff time) and around $100,000 in cash each year, as well as over services cause accounts intentionally.
For Havas' 40th anniversary in 2016, the agency pledged four times that amount of man hours to charitable organizations near its main offices in New York City, Phoenix, Pittsburgh, Providence and Boston.
Havas' work with The Climate Group's Business & Climate Summit in Paris, which drove discourse between companies and policymakers 200 days ahead of COP21, resulted in five media partners, the attendance of over 190 journalists, 55 TV/radio reports and 263 print/online articles. In addition, on #GivingTuesday in 2015, Havas earned 6.3 billion media impressions and helped encourage donors to raise $116.7 million (up from $45.7 million in 2014). Havas also supported CrowdRise on publicity around its second annual Giving Tower campaign for #GivingTuesday and helped broker a series of partnerships with philanthropic and top-tier media organizations.
Havas also partnered with the IPLP to oppose a U.S. government plan to create artificial snow using reclaimed sewage wastewater on sacred Navajo lands. The outreach led to an AP story that was picked up worldwide, getting the attention of politicians and human-rights leaders.
Tucson Values Teachers—and so does Havas. Tucson Values Teachers has become a pet project of the agency's, and Havas has donated many dollars and hours to ensure that 2015 was a banner year for the nonprofit. Total impressions for Havas' op-ed campaign exceeded 45.6 million, and the agency raised more than $119,000 for schools at a summit it orchestrated.