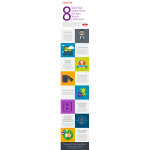 2017 Social Media Awards
Best Infographic
CompTIA – 8 Skills You'll Master When You Earn Your A+ Exam
CompTIA offers a number of exams to prepare and certify the IT workforce. The oldest and most recognized of these exams is A+, which more than 1 million IT professionals have taken throughout the years.
As CompTIA prepared to launch an updated version of the exam, the company wanted to highlight the continued value of this certification by showcasing the breadth of what one can learn about the IT profession. Furthermore, CompTIA wanted to give those considering earning this certification all the reasons they needed to start their journey.
Enter the "8 Skills You'll Master When You Earn Your A+ Exam" infographic, which highlights in a colorful and eye-catching way the myriad skills one will acquire from the exam. The infographic was created by mapping the most-valued IT skills to exam objectives, then outlining exactly what one will learn and can master upon completing the exam.
This includes security, networking, mobile devices, hardware, troubleshooting, Windows operating systems, other operating systems and technologies and technical support.
The infographic explains: "Security isn't just for the security experts. IT professionals at every level need security knowledge and skills. You'll be able to spot security breaches, identify their origins and escalate threats more quickly than technicians who are not A+ certified.
After producing the infographic, CompTIA's creative team shared it via social media, e-mail and newsletters, seeing a 5% conversion rate.
Honorable Mentions:
CompTIA - 7 Steps to Success with Server+
FleishmanHillard on behalf of Northside Hospital - Zika Infographic
Fuze & PAN Communications - A Day in the Life of a Fuzer Infographic
United Technologies Celebrates 20th Anniversary of the Employee Scholar Program