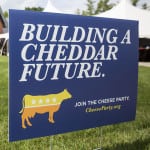 2017 Nonprofit PR Awards
Marketing
American Cheese Society – The Cheese Party
The Cheese Party campaign was a collaboration between the nonprofit American Cheese Society and the global marketing and technology agency, DigitasLBi. This clever, political-style "Pro Cheese" campaign was created to raise the visibility of American artisan cheese among consumers and industry members, while supporting the work of the American Cheese Society's alliance organization, the American Cheese Education (ACE) Foundation, to grow artisan cheese awareness, appreciation and education.
Bold graphics and tongue-in-cheek campaign slogans (playing on those used by leading presidential candidates) gave the Cheese Party's design a unique spin on traditional political campaigns. Diverse marketing tools—ranging from a dedicated website, to campaign T-shirts, buttons and bumper stickers, to video ads—allowed the Cheese Party to reach a wide audience of consumers and industry members on multiple platforms.
Cheese Party messaging reached the wide audience envisioned for the campaign, on more platforms than had originally been anticipated—from an "endorsement" by Colorado Governor John Hickenlooper, to imagery in Culture Magazine with a distribution of over 50,000 readers. A craft brewery, Confluence Brewing Company, even collaborated on a "Cheese Party Pale Lager" that reached consumers at restaurants and retail in Des Moines, Iowa in the summer of 2016.
Social media activity related to the Cheese Party reached more than 72,000 impressions through the last week of October. In the weeks of the presidential debates alone, the Cheese Party Twitter feed garnered 40,500 impressions, or an average of 1,400 impressions per day. Meanwhile, the Cheese Party website was visited by nearly 5,000 users, with 20% of users returning to the site more than once. Cheese Party campaign videos collectively exceeded 1,700 views on Vimeo and YouTube. One of the videos, "Pro Cheese," has currently reached more than 9,000 people on Facebook alone, along with over 650 views on YouTube.
Honorable Mentions:
Edelman - The Aurora Prize for Awakening Humanity
Fahlgren Mortine and Donate Life Ohio - Second Chance Champions
Goodwill Industries of the Southern Piedmont - Werkin' the GW Look Helps Put People to Work