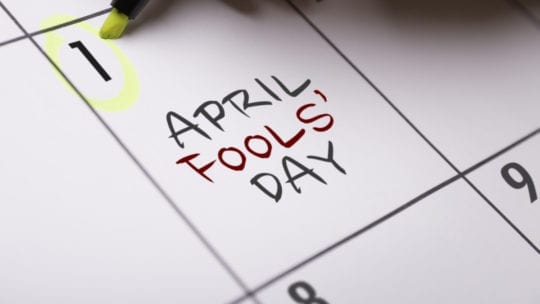 We arrive again at the one day of the year when misleading your audience or customers isn't only permissible—it's encouraged. April Fools' Day has long been an opportunity for brands that don't traditionally have a sense of humor to display one. At best, it can showcase a brand's propensity for timely, topical satire. At worst, it can prove that some brands should stay in their lane and not try to be funny when they fail so miserably at it.
Here at PR News, we see such corporate pranks as a perfect window into the optics of humor and how they can, or can't, work in your external messaging. Following last year's April Fools' Day recap of the good, the bad and the ugly, let's look at some of this year's campaigns that had us splitting our sides, and others that made our stomachs churn.
The Good
The smartest and most believable April Fools' Day Pranks speak to a timely or current trend in an on-brand manner. Case in point—online stock image database Shutterstock created a whole landing page to promote its "Shutterstock Library" in Brooklyn, NY.
A phony press released claimed that the physical repository will house more than "250 million volumes of imagery, a full floor showcasing over 14 million reels of film, and a listening bay where visitors can enjoy over 20,000 music tracks.  All content will include the renowned Shutterstock visual and audio watermarks."
If that last line didn't give the joke away, the fantastically deadpan press release ties its relevance into the recent trend of online businesses going the brick and mortar route. We quote from the release:
"Just as leading digital companies like Amazon and Warby Parker have created immersive brick-and-mortar experiences to complement and integrate with their web and mobile versions, Shutterstock today joins their ranks," said Jon Oringer, Founder and CEO of Shutterstock.  "Our research has shown that to ensure that we're delighting people at every step of the customer journey, there are parts of the experience that need to be in the physical world. We want to serve our customers in an omnichannel way, because that's what customers expect. Sometimes innovation means moving backwards, bringing the digital world into the real world."
A smart prank is believable because it speaks to the zeitgeist, and that's why we're calling Shuttershock's bogus physical archive a rousing success—the brick and mortar trend is very real, and also a fad ripe for parody. Hence, this gag from Shuttershock is not just a prank, it's satire—much like its 'Fyrestock' video from a few months back.
Honorable mentions include this Metro UK story about men being banned from a comments section, language-learning app Duolingo's parodying of its invasive notification system and Hello Fresh's 'Unicorn Box' (so bad for you that it's clearly a prank, betraying the meal kit company's healthy mission).
The Bad
Farm Rich, the makers of frozen mozzarella sticks, should know that jokes about its products containing cheese should be delicately executed. Nonetheless, Farm Rich went full steam ahead with a joke about 'Gender reveal mozzarella sticks" that come in two varieties—filled with pink or blue cheese—depending on the gender of your baby.
First and foremost, thinking about cheese and a baby's gender at the same time is all kinds of gross. A product that a living thing generates should not be used for humor involving another living thing—there's a mad scientist factor to this campaign that's more disgusting than it is humorous.
From a purely comedic lens, the gag also is too ostentatious to be effective, thus destroying any possibility for it to have legs throughout the day. Moreover, with gender and gender fluidity being such a hot-button issue, the brand alienates a certain demographic when it chooses to set its sights on gender as a topic for joking. Whether or not the joke plays to Farm Rich's target demographic is unclear.
Last, a joke shouldn't undermine your brand. In this case, it makes a food category that many people already consider to be unhealthy and low-quality even less appetizing. Have fun getting the sight of that pink cheese out of your nightmares. Maybe Farm Rich should have done something with its french toast sticks instead.
Other bad pranks include T-Mobile's soundproof phone booth (it's good satire, but a product that many of us would actually want, which is frustrating) and Lockheed Martin's 'space perfume' (not offensive or hurtful to the technology company, just confusing and off-brand).
The Ugly
The most tone-deaf April Fools pranks don't only fail on the humor front, but manage to undermine a legitimate issue or feed into the bottomless void of fake information. When you present information as legitimate, you make light of a serious issue as fake news.
This piece claiming that British vessels are being transferred to the European Union command for six weeks is obviously a farce in light of Brexit, but what's going on over there is far from funny, and as such, a defense journal making light of the relationship seems in bad taste. Similarly, this Australian financial site introduced a transitional Brexit currency. Oomph.
We also take issue with this story about Google acquiring a majority stake in the Burning Man festival, which is believable, but too cynical to be funny. Sometimes a prank is believable because it speaks to a real problem—in this case, tech bros taking over an event that holds a deeply spiritual meaning for its attendees, and was founded on a capitalist-free, values-based dynamic of sharing and trading.
Fed up of having to endure stinky sandwiches and smelly snacks on trains?

As part of new anti-social behaviour legislation, those caught eating offensive food items while in transit could face a penalty fare of up to £2,000.

Check before you travel ???? https://t.co/kePXd0M6Yz pic.twitter.com/Or9LRThRsw

— British Transport Police (@BTP) April 1, 2019
There may be no more egregious example of fake news than the message above, however, in which British Transport Police claim to be instituting a fine on people who eat smelly food on public transport. As anyone who commutes on public lines can tell you, this is a serious issue. And it merits strict, actionable reform—there's nothing worse than being crammed into a crowded subway train next to someone scarfing a stinky lunch. Some things are simply not a laughing matter.
Follow Justin: @Joffaloff