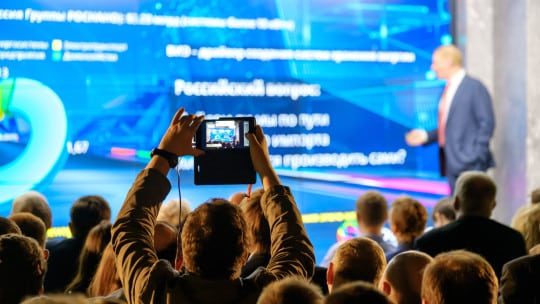 Live video is certainly having its moment in the sun, but some elements continue to mystify communications professionals just entering the space.
For instance, how much money should brands put behind a live broadcast? How can they avoid gaffes once they go live? And how can they ensure their community knows where and when to tune in?
For deeper insight into these questions, we asked three experts to share their approach to live video. Stacey DePolo, social media manager at GoDaddy, Claire Baumann, senior editor at the UN Foundation and Jasmine Atherton, head of social, Americas, at Airbnb offer their top live video tips below.
Educate your audience on how to find your live videos.  DePolo advises communicators to "post a graphic or video explaining how to subscribe to live post notifications to encourage your audience to sign up to be notified when you're about to start."
Frame content around messaging goals. Think about actions you want your audience to take after watching your live video. "Always drive people back to your own website and your email list," says DePolo.
And messaging doesn't need to be all sunshine and rainbows either. Consider addressing pain points instead: "Think of objections consumers have had with your brand and use that as the theme of your show," DePolo says.
Make your community the star. Atherton says communicators should "pay attention to live comments to build audience engagement."
In her live video strategy, Baumann puts the UN Foundation's Gen Z audience front and center: "In order to build a better future generation, it's important to engage with youth worldwide," she says. She suggests communicators "do takeovers, give youth ambassadors access to your channels and let them go wild—we've had amazing results."
Adds DePolo, "Don't take even a single viewer for granted—make sure it's an engaging experience."
Focus on length of views, rather than number of views. Atherton has found that "the longer someone watches, the more people think to use us for their travel plans in the future." This necessitates planning content that "people want to stick around for."
Keep Murphy's Law front of mind. Says Atherton, "When shooting live, plan for everything to go wrong. Go in assuming all the risks of the unknown."
Technical fail-safes are key. Says DePolo, "Get a Jetpack or a mobile modem to avoid live mishaps." She adds,"Use two separate devices to broadcast on your phone and answer audience questions instead of trying to do both using one device."
Cost isn't a barrier. Atherton says live video "doesn't have to cost anything." Baumann adds, "Our campaigns have very small marketing budgets—we purchase $100 Facebook live tripods and then we just figure out where to film." DePolo says GoDaddy "initially invested less than $500 in our production."
Promote after the fact. In Airbnb's case, Atherton says, "the promotion really happens after the live stream has ended." Baumann suggests using Facebook's retargeting abilities, especially "if you have funding for paid promotion."
Follow Stacey: @sdepolo
Follow Jasmine: @jazmalek
Follow Claire: @clairebnyc
Follow Sophie: @SophieMaerowitz