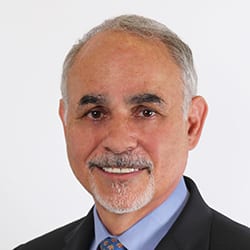 Most PR clients, and especially major corporations and other larger institutions, concentrate on Corporate Social Responsibility (CSR) programs to influence important stakeholders when times are stable.
There's a growing trend among brands that are considering CSR scenario planning to prevent or mitigate crises. The creation of CSR relative to crisis planning should be undertaken with delicate precision.
Authenticity is Critical
Of course, CSR programs can result in disaster if your target audiences smell hypocrisy, a cover-up or greed as motivation. Crisis managers should be cautious but also prudent because, if executed effectively, CSR is an investment in crisis prevention in that it can build valuable relationships and goodwill when times are stable. CSR can also be used to mitigate ill-will after a crisis explodes.
Working with members of Congress, state governments and schools to collaborate with a brand on CSR programs that reach tens of thousands of students and constituents has demonstrated the benefits of such efforts. For example, CSR creates personal relationships with politicians and regulators. Those bonds help portray brands as a good corporate citizens that deserve the benefit of the doubt when a high-profile accident occurs. Relationships with news media were also strengthened.
Creating community CSR programs where corporations support police and first responders positions brands in a space where stakeholders, consumers and the news media recognize companies' good intentions and community concern. This can offset questions of credibility and sincerity during public controversies.
Customized Needs
Each CSR scenario should be customized to a specific brand's needs and target stakeholder's perceptions and outcomes benefiting the public good. One size does not fit all when it comes to meaningful CSR.
No matter when you consider fashioning your CSR program, a significant part of your reasoning must include CSR's value to crisis issues, because clients today are expecting to hear CSR alternatives. For instance, almost all of the largest and mid-cap global companies include CSR practices and even regularly report those practices and their impacts to the company's stakeholders, according to a recent KPMG report.
Effective CSR programs in the context of crises can be tricky since those programs involve so many variables and even breaking-news decisions. Here is a checklist of capabilities needed to create and run great and impactful CSR programs before, during or after a crisis.
Your plan and practitioners should have:
Imagination:Create a unique, customized program that grabs attention.
Intuition:Your heart and gut can validate the program's concept and implementation. Crisis issues are fraught with emotion. Use your best professional judgment honed by your intuition.
Empathy and sympathy:Have a close relationship with those whom the crisis touches.
Goals:Intimate knowledge of your target goals is necessary.
Messaging:Use persuasive messages that can be spread through coordinated communications tools (a powerful CSR program is never one-dimensional).
Personnel:Get the right people for the right job—especially the right spokespeople.
Positioning:Have a plan to put the brand into the role of a vindicator or hero.
Monitoring:Have the capability to sniff-out potential problems.
Scenario planning:This helps to improve flexibility and identify and mitigate problems
Authenticity:Use authentic promotion that is not seen as blatant self-promotion or hypocrisy, but promotion that supports all the socially redemptive results of CSR.
Skills:These include organizational, leadership and compromise skills.
Moral compasses:These guide and point to ethical and honest outcomes.
Pitfalls Ahead
If you can't satisfy the checklist above, you run the risk of jumping into a badly conceived or executed CSR program that will do more harm to your reputation than good. In many cases during a crisis, a flawed CSR program can also get you in trouble with regulators and even prosecutors. Do you remember some CSR programs that didn't meet the checklist requirements and went horribly wrong?
1) The car manufacturer caught developing software that first met environmental standards but after emissions tests were passed, the same software was programmed to slip into a mode that circumvented those emissions controls.
2)Best intentions that had a fatal flaw. The soft drink company that presented a badly produced commercial with a ham-handed message that critics said exploited the Black Lives Matter movement.
3) Several companies that forced their workers to "donate" time to charities, didn't credit the employees for their efforts, though it took false credit for the motivation behind the donation.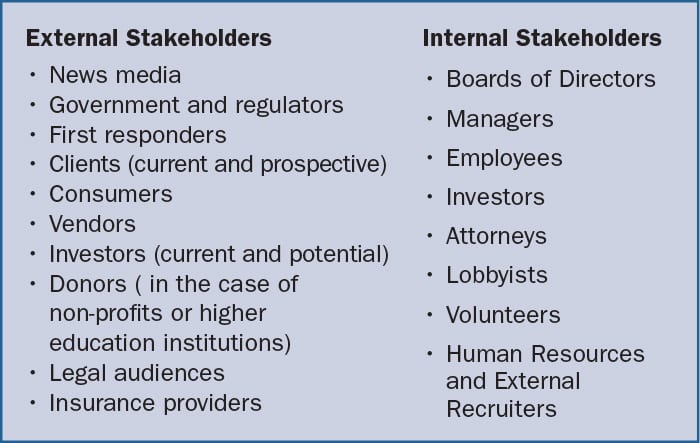 More Checklists
When handled correctly, CSR programs coordinated with crisis prevention and mitigation can help strengthen a brand and influence internal and external audiences, including those stakeholders in the charts below.
Once you've made the crucial decision to incorporate CSR into all of your planning, including crisis planning, refer to these two lists and check off how your CSR program could address each stakeholder's concerns during a crisis.
Of course, the best time to develop a relationship with each one of the special influential stakeholders—such as the news media, government entities, first responders, consumers, investors and donors—is before a crisis ignites.
People will trust you much more when you invest in them and their issues when you don't need their help. CSR's most important mission is to build trust through shared values and meaningful and impactful actions.
CONTACT: [email protected]