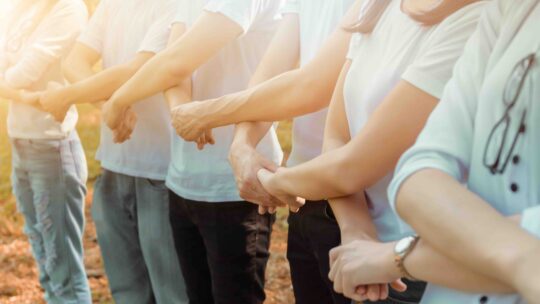 The role of communication professionals involves more than conveying information; it's about meeting audiences where they are with information that matters to them. Finding the intersection where these storytelling opportunities and corporate values collide is how you create meaningful conversations.
Finding ways to authentically share news of community work with key audiences can be a challenge. It's not as simple as telling people what you're doing. Communicators need to personalize messages and explain why they matter. To ensure you strike the right balance in storytelling, here are some best practices.
Meet Audiences Where They Are
To craft a powerful story, understand what resonates with your most important audiences. Listen to them so that you can understand everything from changing tastes and preferences to concerns for the future.
One theme that emerged over the last several months was how to support the hard-hit restaurant and bar industry. We saw this as an opportunity to inform consumers how they can help.
We partnered with the National Restaurant Association to help consumers understand steps restaurants are taking, such as increased training and sanitization, to prevent the spread of COVID-19. In addition, we launched a campaign to help consumers understand how they can help their favorite places stay open–including following local guidelines.
Tell a Cohesive Story
It's important to create a strategic umbrella under which all your initiatives can live. This provides a cohesive way to talk about everything the brand is doing. Not only does it reinforce key messages, it increases their impact.
For example, you can take a holistic approach to communicating about COVID-19. We aligned all our initiatives under the simple idea that we are in this together. These initiatives included: promoting socially distant blood drives, producing and distributing hand sanitizer to needy communities, encouraging consumers to order take-out, hosting trivia nights and live-streaming concerts.
Because we told these stories collectively, we were able to expand the impact of our efforts and reach a wider audience than would have been possible with one-off campaigns. This large-scale strategy created multiple touchpoints with media, influencers and other stakeholders, which added longevity to the story and expanded the impact of our efforts on communities.
Elevate Partnerships
Leveraging partnerships is an invaluable strategy for bringing like-minded organizations together to elevate a shared cause. Partnerships increase visibility and impact. They also bring a built-in third-party advocate.
As a sponsor of the Commission on Presidential Debates for more than 20 years, we recognize the importance of encouraging participation in the political process. Given the COVID-19 crisis, we recognized that the November elections would require different preparations to ensure the safety of voters and poll workers.
In partnership with our wholesalers, elected officials, and groups like the National Association of State Election Directors and the National Association of Secretaries of State, we donated 8 million ounces of hand sanitizer produced in our breweries to polling locations in 40 states. We amplified these donations with local media as part of our broader commitment to strengthening democracy through participation.
The Next Year and Beyond
Looking to 2021, there has never been a better time to rethink communication strategies to embody lessons learned during 2020. Listening to the needs of targeted audiences, telling a cohesive story, elevating partnerships and upholding your corporate purpose will be critical to making the most meaningful impact for communities you serve.
Jennifer Morris is VP of communications at Anheuser-Busch