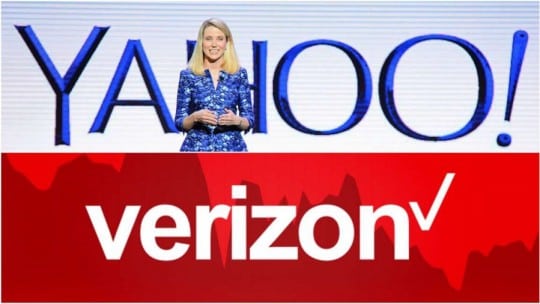 In the media blitz following Verizon's acquisition of Yahoo for $4.8 billion July 25, the headlines have been brutal for Yahoo CEO Melissa Mayer: "The Identity Crisis That Led to Yahoo's Demise," "Yahoo Sells To Verizon In Saddest $5 Billion Deal In Tech History," "How Jerry Yang Killed Yahoo, By Saving It."
Mayer has been noticeably silent on the post-acquisition interview front, giving just a few sound bites to CNBC deflecting rumors of her departure from the company. Her most-covered response in the media was a written one: right after the deal was announced, Mayer (and her PR team) penned a letter to Yahoo employees about the deal, defending a "Yahoo that is unequivocally stronger, nimbler, and more modern." The brief letter, chronicling Yahoo's achievements over the years and appealing to Yahoo staff for a great final year of operations, did not appear to stem the flow of negative press.
Ten years ago, Yahoo and AOL were cutthroat competitors for search engine and web portal dominance. Today, however, Yahoo's unexpected PR savior in the post-sale fallout has been AOL's CEO Tim Armstrong, who, having recently sold his own company to Verizon, has taken the opportunity to spin the Verizon acquisition as a merger of two user bases and an opportunity for digital advertising sales, refuting the media's portrayal of Verizon's opportunistic seizing of a sinking ship.
In an interview with TechCrunch (which is owned, by the way, by AOL), Armstrong stated: "I think when you strip away all of the noise around Yahoo...It seems like a powerful partnership for us if we're living in the digital age." The link to Mayer's post-sale response on CNBC (also partnered with AOL) has since been replaced by Armstrong's more optimistic messaging.
Armstrong's PR team clearly was prepared with positive, simple messaging to deflect the media barrage (and possible negative associations for AOL) following Yahoo's sale. It researched and targeted the outlets where AOL has sway (CNBC, TechCrunch), instead of going after bigger fish that might tangle Yahoo's bad press with their own.
Melva B. Robertson, associate director of media relations for Emory University, and owner and writer for The Write Media Group, LLC, argues that research and knowledge of outlets' opposing views are key to mastering media navigation. Below, a brief excerpt from an article she wrote for  PR News' Media Training Guidebook on coaching the C-Suite through turbulent times:
---
Pick up PR News' Media Training Guidebook for up-to-date media strategies, from pitching press outlets to prepping the C-suite for media appearances.
---
The key to poignant and impactful media interviews involves thoroughly equipping experts with solid key messages, best practices specifically targeted for various media outlets, and strategies for redirecting interviews. As the media relations pro, the C-suite and other key spokespeople trust you to secure relevant media attention that increases visibility to the target audience and helps create trust and credibility for their organizations.
Know the Media Outlet and Reporter
Before sharing media requests with your expert, it is necessary to research the proposed media outlet prior to securing the interview. Your expert needs to know whether the media outlet and the reporter support or reject his or her views. Interviews that face opposition from the interviewer require a different level of preparation. Your goal as the media pro is to filter through requests before confirming the interviews to ensure that your expert is comfortable with the outlet and subject matter. What was the tone of past stories covered on your topic? A great way to determine the views of the media outlet or reporter is to review past stories and similar coverage of your topic. Doing so will help your expert understand the reporter's interviewing style.
Learn the Adversity
Depending on the subject matter, there may be a need to address controversy or opposition. It is important to understand all sides of the issues concerning your topic so that your expert can address these issues or attempt to avoid them. Your job is to protect the member of your organization and make sure he or she will not face a blind attack.
Redirect an Off-Topic Interview
Whether intentional or not, media interviews often can shift away from the original subject matter. When this happens, using tactics such as bridging statements will help your expert redirect the interview to the original key messages. Below are examples of just a few bridging statements:
"And what's more important to know is..."
" That's a great question; however, I think that we should focus on..."
"The real issue here is..."
"Another thing to remember is..."
"It's true that...but it is also true that..."
"I don't know the specifics of that, but I do know that..."
"Before we continue, let me emphasize that..."
As you consult with your expert, you can determine the best bridging statements that fit. You also will have an opportunity to develop others; the main goal is to have an effective strategy for moments when interviews need to be redirected.
Follow Sophie: @SophieMaerowitz