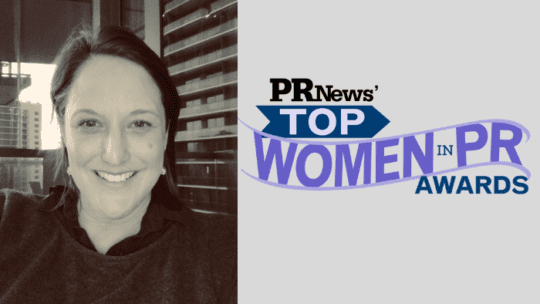 Each year, PR News celebrates its list of Top Women in PR, an elite group of communications professionals who have spearheaded highly successful campaigns and initiatives in recent months. They've also mentored colleagues, made innovative changes to their team structure and ideated some of the most creative PR plans in the business.
Winners are judged based on their campaign objectives, successes and ROI over the last year, as well as their overall influence within their organizations and the PR profession at large. PR News' 2019 Top Women in PR will be celebrated at a luncheon ceremony on Jan. 25 at the Grand Hyatt in New York City.
So, what does it take to be a Top Woman in PR? PR News sat down with honoree Christin Baker, director of public affairs at SoftBank Group, to find out.
PR News: What are the PR trends for 2019 that communicators need to be aware of?  What skills will they need to hone?
Christin Baker: I'm hopeful 2019 can be the year that online kindness trends. We won't solve problems or better understand one another if we are screaming. It starts with institutional leaders—company reps, journalists, government officials—rethinking what we post and steering clear of endlessly snarky comments. If in doubt, delete before you tweet.
PR News: How do you think women can continue to support each other in dominating the PR space? What's your advice for new female PR practitioners starting their first jobs in PR?
CB: Pitch in—especially when a crisis hits. I will always be eternally grateful for my colleague who stayed up until 3:00 AM to help me address a flood of inquiries following a presidential tweet. She didn't have to. But she did. That is what teamwork looks like. When you see a colleague who is struggling, step in and help. It will drive the kind of culture that makes work a great place to be.
PR News: What's your top tip for managing communications across a large global company?
CB: Always ask: Who else needs to know? And don't stop at just the communicators. Include government affairs, investor relations and any other teams that are point with external stakeholders. There must be a holistic effort to ensure consistent communication across the organization. 
PR News: How do you keep large international teams on the same page in terms of communications strategy?
CB: Time zones can be challenging, but a quick summary of what happened while the other team was asleep or a five-minute "handoff" conversation can bring continuity—especially on a hot or evolving issue.
PR News: What's your top piece of advice for aspiring Top Women in PR?
CB: We operate in a 24/7 world. Take a breath. Don't just do. Make time to read, listen and understand.