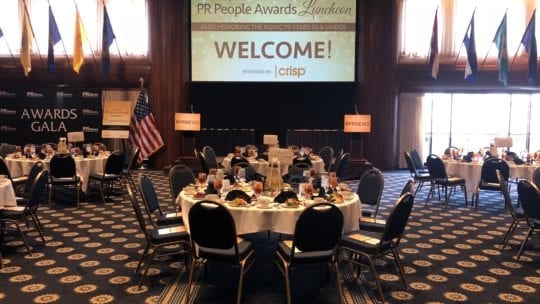 PR News honored a fresh class of young communicators as Rising PR Stars at our 2018 PR People Awards Luncheon on Dec. 5 at the historic National Press Club in Washington, D.C.
LOVE IT! At the #PRNews People Awards, all the Under 30 Rising Stars say that "adaptability" is the biggest skill PR pros need in the future since it's changing so fast.

— Anna Ruth Williams (@AnnaRuth) December 4, 2018
The Rising Stars 30 and Under awards were given to some of the industry's best and brightest from PR agencies, corporate and nonprofit organizations.
Among the criteria the judges considered for Rising PR Stars were leadership potential, growth, campaign innovation, success at media pitching, growing audiences and increasing awareness and engagement, as well as relationship building and mentorship qualities.
Congratulations to our very own @lk_dubs for being honored as one of @PRNews' 2018 Rising Stars! #PRNews shares all the reasons that Laura shines. https://t.co/iD6Xqhj28c #EdelProud pic.twitter.com/7Jb9cbm3kn

— Edelman DC (@EdelmanDC) December 4, 2018
Winners emphasized the importance of staying agile and flexible as their keys to success in communications. The complete list of winners can be found here.