Co-Winner: Elsevier – Med Student Survival Guide

Elsevier, which publishes medical and scientific journals, wanted to find out how its content fit within its customer's lifecycle. After completing numerous focus groups and surveys, Elsevier concluded that medical students are consistently overwhelmed with the sheer amount of complex information they must ingest throughout their time in medical school and beyond. Elsevier's solution? The Med Student Survival Guide Facebook page, which launched in February 2012. The Facebook page is designed for Elsevier to reach out to medical students with resources and study tools. Equally important, it helps to foster loyalty to Elsevier and its collection of medical and clinical reference books as students continue their medical education and eventually become practicing physicians.
Elsevier was able to plug the Med Student Survival Guide Facebook page by having Elsevier representatives attend medical-school conferences and exhibits. Elsevier also created The Ultimate Study Group, an online community of medical students preparing to study for final exams by sharing their studying tips and answering trivia questions from the four-volume, "Elsevier's Integrated Review Series." To seed the U.S. medical student marketplace, free copies of the Series were mailed to the first 100 guests to register on a special online form linked directly from the Facebook event page.
Content-wise, all of the Med Student Survival Guide's daily posts were organized by a daily content calendar; the calendar was structured to address different kinds of information in line with five weekday themes, such as Manic Monday, Feedback Thursday and Fun Friday.
Elsevier's Med Student Survival Guide Facebook page has provided healthy returns for the media company: Since launching, it has garnered more than 30,000 fans, a total reach of more than 15 million users and nearly 28,500 new page "likes." —Matthew Schwartz
Co-Winner: Southern California Edison – Millionth Fridge Campaign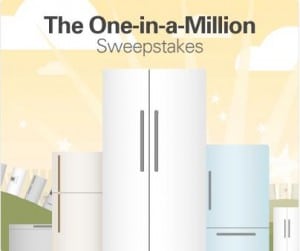 Southern California Edison's Appliance Recycling Program (ARP), which is celebrating its 20th anniversary this year, provides customers with $35, free haul-away and continued energy savings by having their refrigerators and freezers removed for recycling. By the end of 2011, SCE customers had recycled more than 980,000 refrigerators and freezers, and a marketing plan was developed around reaching the 1,000,000th milestone in May of 2012. The goal for the marketing campaign: create buzz and awareness around the milestone and bring attention to ARP.
The utility company introduced an app on its Facebook page to promote ARP. SCE also hosted a sweepstakes, called the "One-in-a-Million" sweepstakes, in which customers entered to win a new Energy Star-Qualified refrigerator. Emails were then distributed to more than 75,000 past-ARP participants—thanking them for helping contribute to recycling 1,000,000 refrigerators and freezers—and to nearly 700,000 other residential customers to promote the program, milestone and sweepstakes. Social media was deployed to help communicate awareness of the conservation milestone and the benefits of the ARP. SCE also posted a YouTube video of the millionth fridge crushing for customers to share.
All told, the marketing campaign played a huge role in helping to shed light on the SCE brand. Less than two months after the launch, the company's Facebook "likes" grew to more than 27,000 from less than 1,000. The utility also garnered more than 12,000 entries in the "One-In-A-Million" sweepstakes while the millionth fridge milestone was picked up by dozens of general, online, print and ethnic media outlets. —Matthew Schwartz
Honorable Mentions:
· CoupSmart – Lindt: 1 Million Chocolate Truffle Giveaway
· Edelman – Humanizing AXE: Personal Community Management On A Massive Scale
· Ignite Social Media – FIAT Score A Scorpion
· Motive – Van's Natural Foods: Breakfast Bedheads
· Weber Shandwick – Degree Men: Masters of Movement