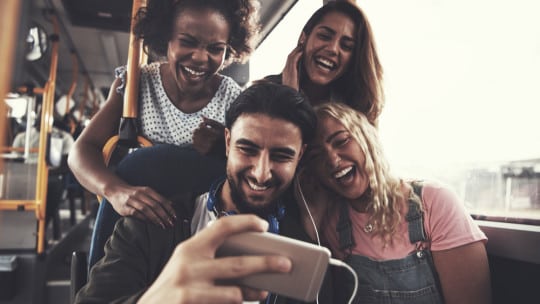 With 8 billion average daily views of video on Facebook, 4 billion+ on YouTube and one hour of video uploaded to YouTube every second, you'd need to live under a rock not to see social video becoming a preferred medium for storytelling. But how can your brand's videos compete with excessive noise in the market?
Here are ten tips that will ensure your social video garners engagement.
Budget be Gone. Don't worry about your modest budget. "I can't emphasize enough how good video shot on a cellphone looks," says Elizabeth Sorrell, National Audubon Society's VP of audience engagement. She touts editing features on smartphones and inexpensive licensing options such as Shutterstock and iStock, whose high-quality clips can be had for less than $100.
Be Mobile. One of the biggest mistakes brands make with video is failing to optimize for mobile, Sorrell says. 90% of Facebook's daily active users access the platform via mobile devices. This means a video that's gorgeous on a large editing bay monitor might not translate when condensed to a small screen. Be aware of "sweeping shots and dramatic landscapes" that don't do well "when scaled down" to mobile, she adds. Tight shots that "viewers can instantly understand are more likely to get people to stop scrolling and watch the rest of your video."
Three Tips for the Price of One. Elaine Seward, social media director at American Chemical Society Reactions, says communicators can do 3 things to make inexpensively shot videos look and sound better.
First, "take your time to clean the shot," Seward says, removing anything that will distract from the main object in the frame. Next, "be aware of sound from air conditioners, car traffic and adjust volume levels to make sure they're consistent: avoid having the video's opening loud and the rest softer." Last, get rid of pauses.
"People have minimal attention spans…they don't want to sit through 30 seconds of you setting up a camera," says Seward. Similarly, if a person pauses during an interview, edit it out. She likes Adobe Premier Pro for editing.
A Measured Response. Now that you know a few basics about creating social video for your brand, what should your video say? To answer that question, survey your audience online and/or at the end of videos. Though it seems obvious, "do more of what works and less of what doesn't,"says  Sorrell. This means "spending time analyzing your metrics, which can be an easy step to skip."
Are You Engaged? Similar to social media measurement, avoid tracking only glamour metrics. Look instead at engagement rates and retention time, which tells you when people drop off from a video. "We found people dropping off at the end of our videos...so we continued to talk about the video topic while the credits were rolling," says Seward. Another tip: insert a call to action in your video. "We asked people to respond to questions" about what topics they'd like to see in future videos, Seward says. "People respond much better when you ask them directly to do something."
That's Cool: Seward also stresses the importance of finding a "cool takeaway that nobody will forget." She will often create a video related to an upcoming news event, then let the idea marinate and finally writes a draft script. For example, the team decided in July 2016 it wanted to do a video related to Apple's annual announcement of new iPhones. That resulted in "How to Keep Your Phone Battery Charged Longer." Posted on YouTube it had 23,000 views within two days. It now has more than 200,000.
Share and Share Alike:  Social video is also crucially important to journalists. With more than 75% of journalists feeling pressure to think about a story's potential to be shared on social, according to an Edelman report, video and imagery are among things journalists are seeking in PR pitches, says Jack Barbour, media director at Golin. The other four: brevity; a local element; a human voice; and proximity to trending topics.
Think Like a Journalist. While that maxim usually pertains to pitching, brands creating social content should be aware that journalists are mining social for story ideas. In fact, 81% of reporters get story ideas from social, a forthcoming survey of 150 journalists from D S Simon Media says. The takeaway: craft your social video and posts accordingly, always thinking about how reporters can use your content.
As You Were. Another factoid from the forthcoming Simon Media survey of journalists: a significant majority of media outlets (81%) use submitted video as-produced, ie, without editing it. Think of the potential this holds for shaping your brand's narrative.
Location, Location, Location. You'd never wear ripped jeans to a formal event, right? Similarly, it's important not to post a graphics-heavy effort on platforms where photos aren't featured content. In other words, use the social platform best suited for the type of message you've created, says Kelly Stone, director of global social media at CompTia.
Stone summarizes social sites this way: Twitter (limited characters, conversational, short half life, action items, photos/GIF/native video, use one #); Facebook (200+ characters, to down, action item, long-form vids and albums, longer shelf life, skip hashtags); and Instagram (images more important than words, 130-150 characters, no action item, pure engagement, Ripl/Time laps/Boomerang for motion, use multiple hashtags).
Seth Arenstein is editor of PR News.  Follow him at: @skarenstein