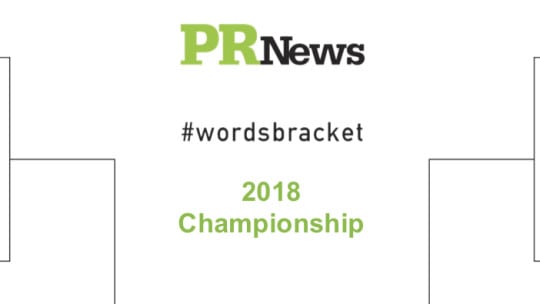 Earlier this week, PRNews launched its own version of March Madness with the 2018 Most Overused PR Words & Phrases Tournament. Communicators reached out to us via Twitter with their votes for the most egregious examples of corporate jargon, from "thought leader" to "leverage" to "at the end of the day."
Take a look at the second-round picks below, download a printable .PDF of the #wordsbracket here and vote on Twitter for the most overused words from each pairing that you'd like to see advance (please use the hashtag #WordsBracket). We'll announce the third-round picks next Thursday, and every Thursday through the end of the month until we crown a champion .
For tips on how to become a great writer, register for PR News' Advanced Writing Workshop, which will be held March 20 at the historic National Press Club in Washington, D.C. Use the code WRITE for a $100 discount when you register.