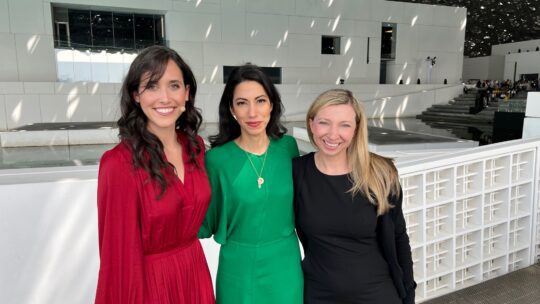 As the world continues to reopen, many communicators will convene at and organize in-person and hybrid events. There are new processes born during the pandemic that communicators should consider (more on those below). And there's something pre-dating the pandemic that can make in-person events special.
Earlier this month I led communication and PR for the Forbes 30/50 Summit in Abu Dhabi, which gathered women in recognition of International Women's Day. Based on this trip, I believe there's an increased appetite for convening in-person, at live events.
More than that, I met some incredible communicators. What stood out from conversations with them were our shared experiences as women in the communication industry.
Despite working in disparate sectors and living far from each other, we had much in common. We faced similar challenges. There was a lot of head nodding and supportive remarks as we shared stories.
Connecting with Communicators
So often we as communicators are behind the scenes and focused on an event's success. Yet it's also important to make time to connect with attendees, especially communicators.
Conversations like these are essential for growth, but also make us feel a little less alone in the world. They also offer opportunities for positive change. So, of course, ensure the event you've organized is top notch. However, also take time to make industry connections.
And after making those connections at in-person events, follow up. Find a mentor or a group of individuals who get what you do, who will listen and help you problem solve. The more we connect and help each other, the stronger we'll all be.
As a first-time mom who hadn't traveled during the pandemic, it was my initial experience overseeing communication for a multi-day, in-person event in several years. In addition, I'd never worked in the UAE. So, there was more than usual to learn, including media relations as well as health and safety protocols.
There are some observations that may prove helpful if you're a PR pro planning an event soon:
Power of Pivot
The most important lesson was embracing the power of pivot. Since the pandemic is still a presence, we had to contend with health and safety protocols.
Moreover, one of our participants had travel issues. This participant was due for back-to-back TV interviews the morning before joining an on-stage conversation. The evening before, our team had an indication that it might not be possible for us to conduct those interviews on-site at our Summit location. So, we came up with a backup plan. It worked.
In this uncertain world, you must have backup plans for major interviews, especially when live TV and/or travel is involved. Ensure there's an open line of communication between the interviewee, the producer, yourself and your programming/production team.
And remember, as much as we'd like it to be, not everything is controllable. Sometimes you need to be okay if it doesn't work out exactly as planned.
Embrace Hybrid
One small positive from the pandemic is that virtual interviews and appearances are more acceptable. As such, events can gain access to top speakers who have tight schedules.
For example, former Secretary of State Hillary Rodham Clinton participated in a keynote conversation. Though she was not in Abu Dhabi, the Secretary joined the Summit live (despite a 9-hour time difference). In addition, she answered questions from attendees and mentored several of our attendees virtually.
As any communicator knows, having a newsmaker and leader engaged in your event is important to securing media coverage. Thankfully, her virtual appearance led to global coverage.
Find a Partner You Can Trust
Working in a new media market can present challenges. That's why it's critical to engage with a partner who can support you. We were fortunate to work terrific partners in Abu Dhabi. Their relationships with local media and understanding of the market, as well as event locations, were critically important. They provided invaluable expertise ranging from translation to knowing target media.
Laura Brusca is SVP, corporate communications, Forbes and chief strategy officer, New York Women in Communications